What is the Average Weight of Your Standard Size Custom Challenge Coins?
Posted by Signature Coins | February 8, 2011 at 10:28am | Topic: Challenge Coin Design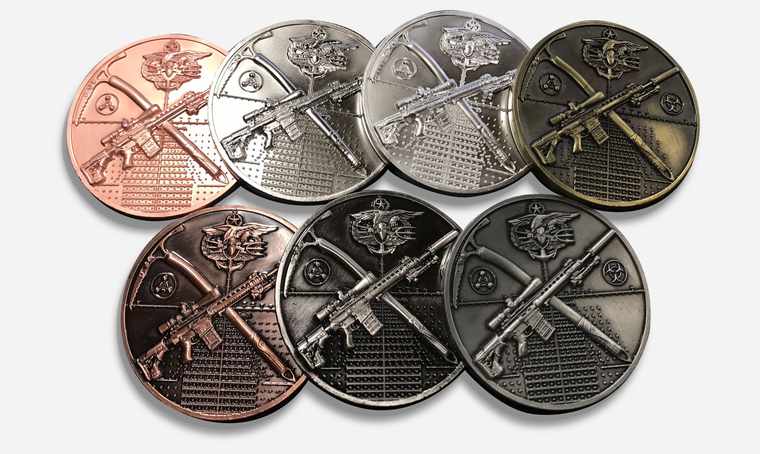 Almost as often as we are asked to explain the difference in coin sizes, customers seek to know how much coins weigh. There are several reasons for this. If the challenge coin is going to be mailed as gift, its weight will affect the cost of shipping. If the custom coin is being used as flip coin, which is a popular sport, how easily the coin can be flipped is affected by its weight as well. Not to mention, heavier coins are typically perceived as being more valuable. Regardless of the reason behind it, knowing the correct coin weight has become an important part of many challenge coin orders.
Standard Size and Weight Variance
We cannot accurately explain challenge coin weight without mentioning challenge coin size, in particular standard challenge coin sizes. Our most commonly ordered coin size are 1.5, 1.75, and 2 inches. Challenge coins made larger than 2", such as a 4.5" coin, are too large to carry around, but make remarkable show pieces or car badges.
The weight of our challenge coins are measured in ounces. The smallest circular coin, at 1.5", weighs about 1 oz. The next size, the 1.75" coin, is approximately 1.4 oz. Finally, the 2 inch coin fluctuates between 1.5 and 1.6 oz. Now that you are familiar with the standard weight of circular challenge coins, we will explore a couple of the design options that can affect it.
The Skinny on Customization Options
Cut-out is a very popular customization option that adds character and authenticity to the challenge coin design. Just as its name suggests, certain parts of the coin are completely removed which creates open spaces within the design details. Naturally, with a portion of the coin taken out, this option gives the challenge coin a lighter weight.
However, adding thickness to a challenge coin will make it heavier. A standard size challenge coin, like the coins listed above, is usually 3mm thick. When you request to have your coins made any thicker than that, their weight increases also.
We are happy to address and thoroughly answer any questions regarding custom challenge coins. Though coin size is common question, we realize that weight also plays a big part in the purchase of challenge coins for a few reasons. Standard circular challenge coins range from 1.5 to 2 inches and from 1 to 1.6 ounces respectively. Also, remember that design options you choose can decrease or increase the coins weight.
Contact Signature Coins today to learn more about custom challenge coin sizes, weight and personalization options. Give us a call at 1-800-953-3607 or email one of our representatives at info@signaturecoins.com.