A United states military Tradition.
Military Veteran Challenge Coins
Military veterans deserve only the best challenge coins
Throughout their service to the U.S. Military, veterans are involved in numerous responsibilities and missions earning them drawers and collections full of unique military challenge coins. These coins are awarded to servicemembers as they demonstrate outstanding completion of their military services, pass major milestones in their career, or become recognized by their commanding officers for serving with distinction. Each challenge coin in a veteran's collection tells a different chapter in the story of their service and demonstrates their willingness to serve time and time again.
At Signature Coins, we are proud to know that so many of our nation's military veterans have our coins in their collections or back pockets. For over 15 years, we have been a trusted industry expert in the design, development, and delivery of custom-made challenge coins to members in every branch of our nation's military.
Whether you were a veteran who served in the U.S. Army, U.S. Air Force, or U.S. Navy, we at Signature Coins salute you for your service and dedication to the country and hope our coins continue to give you fond memories of your duty.
 
What are Veteran Challenge Coins?
Veterans are awarded challenge coins for serving with their units, performing exceptionally in the completion of their duties, or as an award for taking part in a dangerous operation. At the end of any veterans career, they're liable to have large collections of unique challenge coins. Every challenge coin is unique to every unit, operation, or officer who commissioned the coin, but the most common elements include the major emblems or slogans of a particular military branch or unit. 
By the time a servicemember has gone from Active Duty to military veteran, their collections will be filled with unique challenge coins from the battles they've fought, operations they've taken action in, and units they've fought with. Each coin in their collections tells stories of their service long after they've left the service and represents a colorful military history of their service. 
Soldiers have received challenge coins since as far back as World War I and challenge coins are a consistent tradition in nearly every branch of the military. Even after their service, war veterans may be awarded new challenge coins in recognition of their previous service at military events and from fellow soldiers who meet and wish to honor them.
Veteran of conflicts with notable challenge coin traditions include:
World War II Veterans - Challenge coins are often made and distributed to World War II veterans during annual military birthday balls and other major events which honor veterans of World War II. These coins commemorate the sacrifices and valor of these veterans in one of the nation's biggest conflicts.
Vietnam War Veterans - The "challenging" tradition of challenge coins are said to have first started with "bullet clubs" during the Vietnam War where special forces soldiers would keep a single "final" bullet for themselves rather than risk capture and betray their comrades. 
Korean War Veterans - Often called the "Forgotten War," members of the armed forces demonstrate that they have not in fact forgotten the conflict by commissioning custom anniversary challenge coins to be given to veterans who served and to be distributed in honor of the conflict.
Operation Desert Storm War Veterans - One of the major operations of the Persian Gulf War, challenge coins minted in 1991 are considered valued collector's items and veterans of the conflict continue to be honored by fellow soldiers and the government with custom anniversary challenge coins.
Iraq War Veterans - Veterans of the initial conflict were honored for their services throughout the war with unique challenge coins for awarded for their exceptional service in a modern conflict. Many of these war veterans continue to serve and earn new challenge coins as they create new chapters through their military career.
 
Ready To Get Started?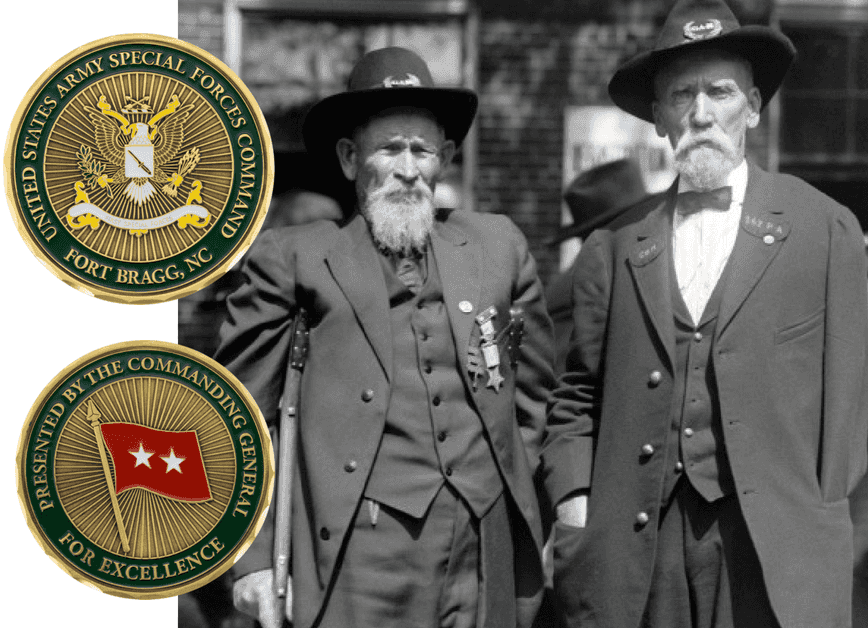 Ready To Get Started?
Custom Challenge Coin Examples
Designing a Veteran Challenge Coin
At Signature Coins, we've developed a simple and straightforward three-step process to ensure quality products and quick turnover times to all of our military clients. To get started, simply fill out our quote form linked on this page and you will receive a free art proof of your design within 24 to 48 hours. The art proof will be full color and incorporates any unique emblems or symbols requested. Additionally, if you don't have a clear idea of how you'd like a design done, our representatives provide advice to come up with a truly special coin to honor your veteran.
We offer unlimited designs to each order until you are completely satisfied and give us final approval to begin production. After approval, orders are completed and delivered to your doorstep within 14 business days via free UPS Priority Air Shipping.
Most challenge coins designed specifically for veterans are commissioned to honor their previous service in any of our nation's past conflicts. With a team including military veterans on our end, we understand how important these coins can be to their recipients. You can always trust Signature Coins to have your needs in mind when designing a challenge coin.
With over a decade of experience in the business, we are an industry leader for designing and supplying the Active Duty military and their veterans with challenge coins for any occasion including: 
Anniversary coins commemorating past conflicts and honoring current veterans
Commander coins for officers
Unit coins for entire divisions
Honor coins for exceptional service
Birthday ball coins
And many more 
 
Call and Speak to a Specialist Today
Customizing Military Veteran Challenge Coins 
Our company offers a host of customization option with each order of veteran challenge coins including free and premium options for modifying the size, shape, color, edging, plating, and more. Our expert representatives have a wealth of experience designing coins for the military and we treat each order with the same dedication our veterans have shown us.
Our services allow you to completely modify a coin's:
Size - The most common sizes are between 1" to 3", but we've made coins as large as 9".
Shape - Challenge coins are traditionally shaped like circular coins, but we can create coins in every shape imaginable including weapons, badges, emblems, or mascots.
Color - Choose to leave the coin in its natural metallic color or have it painted with up to seven colors on either side chosen from the full Pantone color spectrum.
Coin Edge - There are six different options to decorate the edge every coin, providing a unique look and feel to each order.
Plating - Plate your coin in antique gold, silver, or copper. Double plate a coin to create and highlight key details.
3D Coins - Allow specific details or elements of a design to literally pop or stand out of a coin's surface by ordering a 3D coin.
Offset Print - Offset printing creates an exact replica of an image or photograph on the surface.
Silk Screen - Create a perfectly smooth coin surface by silk screening your design's colors onto the coin.
Epoxy Dome - Create a glassy and smooth finish over one or both sides of a coin with an epoxy dome.
Whether you know from the start what design and symbols you want to incorporate or need assistance in finding the right look, our dedicated team of professional graphic artists work with you at every step.
Get Your Free Military Veteran Artwork Today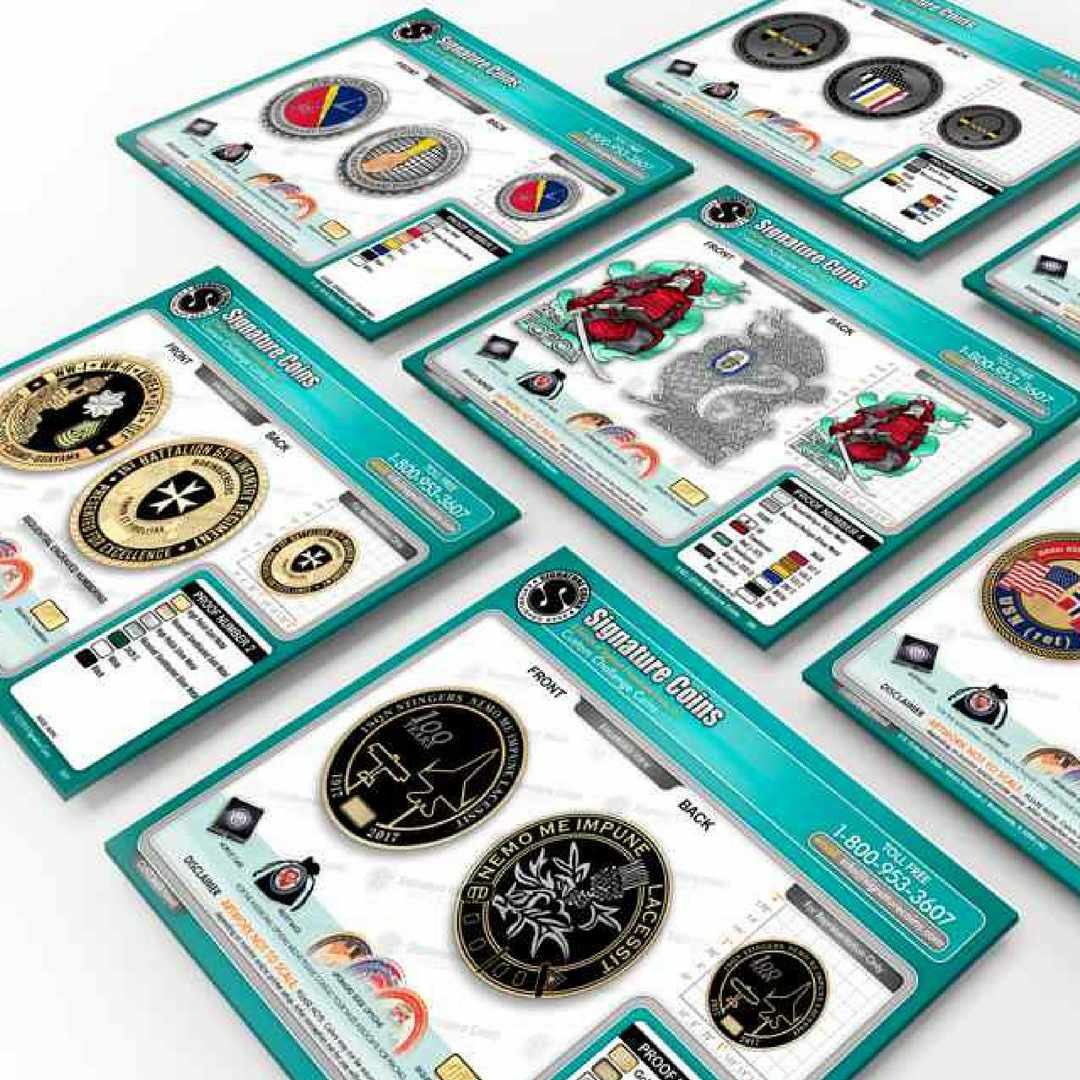 Signature Coins has military veterans on our team designing and building our challenge coins, and understand how important it is to have a unique item for every occasion. Trust our skill to bring fine detailing, state of the art customer service tools, and expert representatives. Fill our quote form today and receive your free art proof within 24 to 48 hours.
Our services include:
Free Artwork & Design
Free Unlimited Revisions
Free Mold & Setup
Quality & workmanship 100% guaranteed