Promote Financial Fitness with Your Custom Challenge Coin Gift
Posted by Signature Coins | October 6, 2014 at 7:50pm | Topic: Challenge Coin
January is Financial Wellness Month. You can promote financial fitness with a unique gift item that you give new members of your bank or credit union. Custom challenge coins are rich with visual appeal and personal meaning. More importantly, they're the type of memento that others take notice of. Few people will argue about the significance of an all metal gift with the bank or credit union's logo or emblem on it.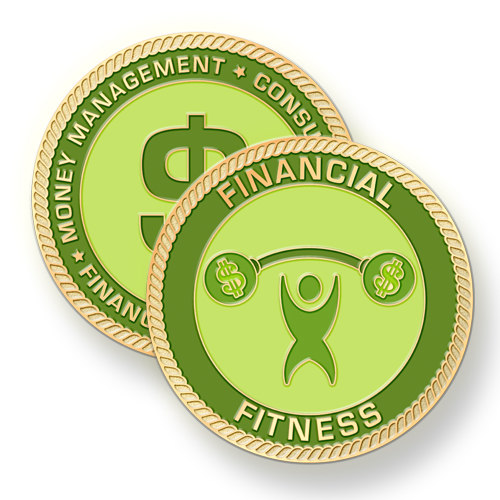 Highlight a Particular Product or Service Offered by Your Financial Institute
Promote all the different products and services that you offer customers with your custom challenge coin design. For example, create a piggy bank shaped coin to hand out to people who open a new savings account with your financial institution. Include the bank or credit union web address on the coin. Add a message about interest rates as a way of getting people to tell their friends, work colleagues, and family members about you.
Traditionally shaped coins are classic. Specialty coins are unique. They are created to look like the item or logo featured in the coin's artwork. You can create specialty coins that look like dollar signs (for investments and retirement accounts), houses (home mortgages), and even diplomas (college savings). The choice is up to you. Your custom challenge coins represent your bank or credit union.
Financial Wellness is Something to Strive For
Promote financial fitness with your custom challenge coin gift. Educating others is easy when you have Signature Coins by your side. We help you create custom gifts that people take notice of. Let us know what we can do to make your coins stand out in your community. Perhaps including your logo or emblem in the artwork will do the trick.
While you're on our website, take a look at our online gallery. You'll see custom challenge coin designs galore there. We feature some of the most outstanding examples of creativity and craftsmanship in that area of our website. Let us know what stands out most to you about the designs you see there. We'll make sure that the artwork we create for your custom challenge coins is every bit as exciting and eye-catching.
Email your ideas to info@signaturecoins.com. If you'd prefer to speak to us directly, we have a toll-free phone number that you can call. It's 1-800-953-3607. We're here to help you in whatever way that we can. Let us know what we can do to make the ordering process quick and easy for you.