International New Years Resolutions Month for Businesses Custom Challenge Coins
Posted by Signature Coins | October 11, 2014 at 3:50pm | Topic: Challenge Coin
January is International New Years Resolutions Month for Businesses. What do you have in mind for 2015? Share your professional goals with us. We can help create custom challenge coins that help keep you and your employees motivated year round.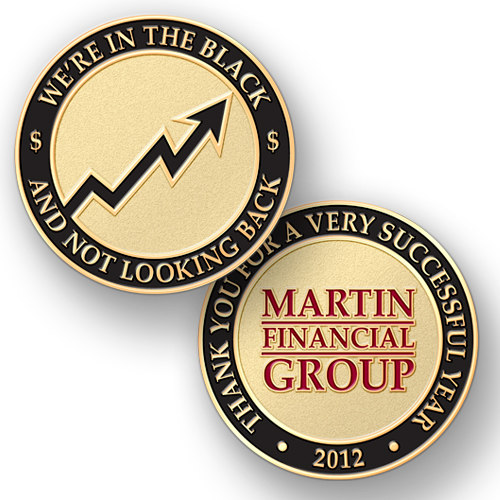 A tangible reward like the coins we create for our customers on a daily basis is often what it takes to keep people focused and striving toward your business goals. A small reminder like a positive message imprinted on the surface of a coin is what it takes to achieve success in a shorter amount of time. If you have a specific goal in mind, make sure that your employees can see it clearly.
There are a number of different reasons why custom challenge coins are ideal for your business. They're durable and long lasting. They are highly regarded as the ultimate award item. They're crafted with great care in the size, shape, style, and metal that best represents you. More importantly, they boost morale, increase productivity, and bring out the champion in each and every one of your employees.
You can see what we're talking about by visiting our online gallery. You'll see the best of the best custom challenge coin designs that we've created throughout the years. The variety of sizes, shapes, and styles demonstrate what we're capable of doing for you and your order.
Give People a Reason to Keep Their Eye on the Prize
Encourage area businesses to stay on track where their professional goals are concerned. Help them be more profitable, attract new customers and clients, and hire new talent through the creation of your encouraging gift. Custom challenge coins are the type of item that people take notice of.
Create a gift with long lasting appeal. Contact Signature Coins with your request for a no obligation, free price quote. We'll provide it, custom artwork, and the information that you need to place an order in the email that we send.
Provide us with the details needed to craft a custom challenge coin for the businesses in your city. Email info@signaturecoins.com. You can call 1-800-953-3607 toll-free. We're in the business of helping other businesses. Make your design outstanding. We can't wait to hear from you and about all of the ideas you have for your order of custom gifts.