Quality challenge coins
Custom Fortune 500 Company Coins
How Corporate Coins Inspire Your Business
The Fortune 500 is a list put together by Fortune Magazine each year that is comprised of the top American corporations as listed by their total revenue. Placing anywhere on this list is a monumental achievement and speaks volumes towards your company's strides and aims. The steps taken after you place on the list are crucial. Your goals should be to climb higher by building out your concept and influence and to continue to provide the consistent service and quality that landed you in the Fortune 500 in the first place.   
So how do you do it?
The first thing you need to remember is the people who got you there. The people who brought you this success. The footsoldiers of your company need to be inspired to work harder and achieve new heights.
Custom corporate coins have been growing in popularity over the years among the top business around the country. They are used to recognize the high level of achievement from your staff, to build camaraderie, and to show gratitude for their loyalty and devotion. Making staff engagement and satisfaction a priority will create a culture of appreciation and dedication that will inspire your staff and cultivated a successful corporate climate. 
How Engagement And Gratitude Can Improve Performance
Employee engagement is not the same as employee happiness, however, they work best when they go together. Engagement is an employee's understanding of their role and understanding of how they impact the company. Your employees need to know how their actions are affecting their team, and how their team affects the overall goals of the company. As an employer, you need to provide resources for them to learn of their impact and understand their influence. 
This understanding fosters a commitment to the company. Not only do custom Fortune 500 company coins improve employee engagement, they also show gratitude in a unique and personalized way. Remembering to appreciate your staff goes a long way in performance. If your staff feels their efforts are not being taken into account and they are never rewarded than they are less likely to engage with your company's core values and aims. 
A study conducted in 2010 by Adam M. Grant from the University of Pennsylvania and Francesca Gino from the University of North Carolina at Chapel Hill found that a group of fundraisers who heard a personal message of gratitude from the program director made 50% more calls than a control group who received no message of gratitude from any members of the program. 
What this tells us is that a personal message that recognizes the work your employees do and touches on the impact your staff goes a long way.
Custom Fortune 500 company coins are a perfect way to convey your thanks and instill a sense of pride within your workforce. Our team of experienced designers will create a completely original design that can incorporate corporate logos and emblems, mission statements, significant dates, and any number of other personal touches you would like!
Corporate challenge coins are symbols of your team's achievement. They build a sense of unity and recognize the long hours and many trials that you as a company have overcome to reach success. 
For companies in the Fortune 500, it is especially important to build up your staff with encouragement and appreciation. You are in the most competitive climate for business and you will need everyone motivated to reach that next tier and keep pushing forward!
We at Signature Coins have worked with a number of Fortune 500 corporations as well as other recognizable companies in the past including:
Amazon 
Microsoft
Facebook
Coca-Cola
Allstate
Publix Super Markets
Home Depot
ADP
Red Bull
NASCAR
Hyatt Regency
Pandora
NASA
Gatorade
Get started with your order of custom Fortune 500 company coins today! You can check out some of the coins we have made for large corporations in the past in our coin gallery or learn more about our varied avenues of customization on our pricing page.
 
Ready To Get Started?
Ready To Get Started?
Fortune 500 Challenge Coin Examples
Where are the Fortune 500 Companies?
Many corporations on the Fortune 500 list are recognizable to the general public. This goes without saying, as being one of the elite revenue centers in the United States means that you are supplying a large number of goods and services to people all around the world. But there are certain places around the country that house more Fortune 500 corporations than the rest.
According to Statista, as of 2017, New York has the highest number of Fortune 500 corporations with a total of 54. California and Texas followed closely behind with 53 and 50 respectively. Illinois falls into fourth place with 36 and from there the list goes on with no other state breaking the mark of 30. 
These states are all powerhouses when it comes to innovation and competition, however, what makes a company successful is not where it is but how it performs. But if you are looking to put a local spin on your order of corporate challenge coins, check out our local pages for some of the areas with the highest density of Fortune 500 companies.
Ohio Challenge Coins
Delaware Challenge Coins
Stand out above the rest and include design cues from the local area that has housed your company from the beginning all the way to greatness! 
 
Call and Speak to a Specialist Today
Quality Assurance and Personal Products 
What you can expect working with Signature Coins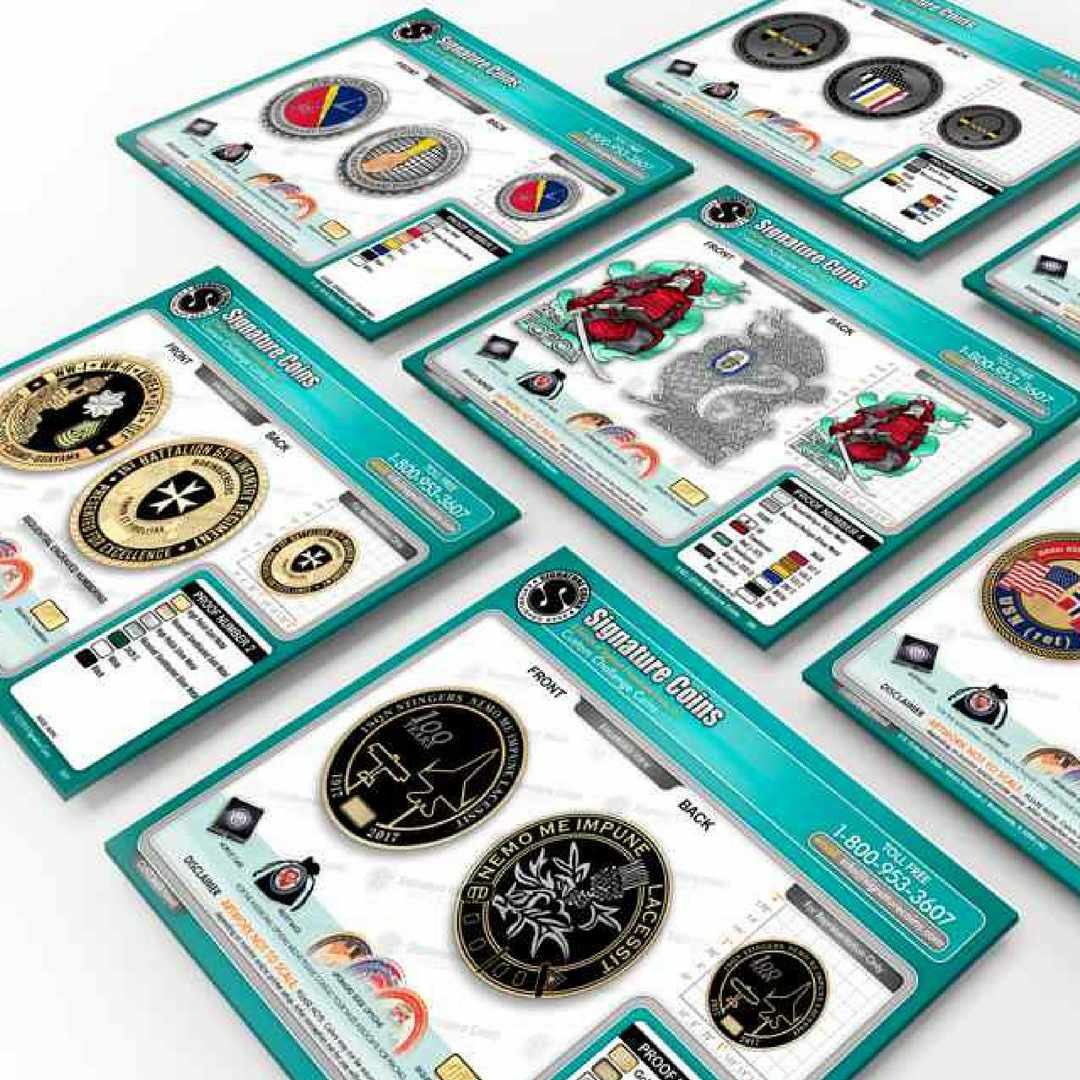 Signature Coins has been committed to supplying the best corporate challenge coins on the market since we opened our doors over 15 years ago. We strive to earn the trust and return business from all of our customers through the ease of our ordering process and by offering friendly assistance from our staff every step of the way. You can call to speak with one of our trained associates who can answer all of your questions, or you can get started with your order now by filling out one of our simple free quote and artwork forms.
You can always depend on us to offer:
Free Artwork and a Free Quote On Every Order
Your first proof will be ready within 24-48 hours. Just fill out our free quote form, give us some ideas on what kind of design you are looking for and we will have something ready for you in no time!
Free Unlimited Revision
We want to make sure you have all the tools necessary to make your vision come to life. Once your first proof is ready, let us know if there is anything you would like us to improve or change! We will be happy to oblige.
Free UPS Air Priority Shipping
On all completed orders, we aim to have your custom coins in your hands within 14 business days. We work had to meet all deadlines, so you can be sure as soon as production has finished, your coins will be on their way!
100% Satisfaction Guarantee
We strive for perfection in all of our products. We use durable metals like zinc, brass, or steel to ensure your coins dexterity and longevity. They will hold their vibrant colors, smooth surfaces, and crisp edges for years to come!
The tradition of custom corporate coins originates from the challenge coin practice prevalent throughout the United States Armed Forces as well as law enforcement and first responders all over the county. These coins build camaraderie and embody the spirit of your organization. They are sure to be carried with pride and displayed with honor for years to come. Get started with your order today and get your team motivated!
Thank you for choosing Signature Coins and we look forward to working with you!