Wildland Firefighter Challenge Coins
On average there are 73,000 wildfires per year. This results in over 7 million acres of burned land and over 2,600 leveled structures. Wildland firefighters combat these terrible forces of destruction on the front lines. During fire season, wildland firefighters will sometimes work for over a week straight digging fire lines, clearing high-risk areas, spreading water, and cutting open trees that are already ablaze to douse the fires at the core.  
City and county fire departments suppress urban fires and act as first responders after accidents and in times of natural disaster. Their efforts are indispensable and their courage and valor should never be understated. Wildland firefighters are usually working far away from the urban world. Credit they are due is sometimes lost because they are out of sight from the world but wildland firefighters work in the harshest conditions and most dangerous situations imaginable.
Firefighter challenge coins have been a tradition among crews and departments all over the nation for years. Usually, the custom coins are designed with individual stations in mind. Emblems, mottos, and missions are commonly incorporated into custom artwork of the home city, county, or station. Wildland firefighter challenge coins are used to show respect, appreciation, and pride for the dedicated service of fighters working in the most remote areas of wilderness in North America. 
Without their efforts of prevention and combative force against raging fire, millions more acres of national forest, grassland, and private land would be decimated. Custom wildland firefighter challenge coins give thanks for their sacrifice, their courage, and their steadfast spirit when fighting some of the most daunting fires conceivable.
National Forest Service
Protecting The Land
The National Forest Service employs around 10,000 wildland firefighters who work in hand crews, engine crews, helitack crews, and hotshot crews. They coordinate with federal, tribal, and state organization in combating wildfires to ensure every possible resource is available for taking on the most dangerous blazes. 
Their main programs are firefighting and prevention, however, through years of experience and scientific study, it has become apparent that fire can benefit the wild. Some responsibilities of wildland firefighters are to instigate and manage prescribed fires to lend in the development of the ecosystem as well as clear high-risk areas. 
The National Forest Service also takes special care in fire prediction. By studying the conditions and histories of wildfires in the past they can now monitor fire seasons, find at-risk locations, and manage and anticipate the movements of wildfires. National Predictive Services enables coordinators to know the safest and most effective places to put firefighters, engines, and other resources while attacking a blaze. 
Rehabilitation is another effort of significant importance. Even before a fire has been subdued, restoration efforts will sometimes begin and may continue for as long as a year later. The Burned Area Emergency Response program works diligently to identify and rectify threats to human safety, property, and natural resources.
Wildland firefighter challenge coins reflect the efforts of all of these programs and honor the commitment to protecting life and the environment. Fire prevention, fighting, and restoration efforts are all handled by a few brave and selfless individuals dedicated to ensuring the safety of others. Get started with your custom wildland firefighter challenge coins and honor your team in the National Forest Service.
 
Ready To Get Started?
Ready To Get Started?

Hotshot Crews
Hotshot crews are made up of the best wildland firefighters. Elite members of federal, state, tribal, and National Forest Service crews are put together to form hotshot crews and together face the most grueling tasks a wildland firefighter could ever experience. They are the strongest and most skilled firefighters and attack the hottest parts of wildfires.
On average, members of hotshot crews spend 103 days assigned to fires, drive over 50,000 miles to reach remote locations, and treat over 1,800 acres of land to prevent fire each year. Only the most experienced and skilled wildland firefighters can make the cut and keep up with the stringent physical requirements to stay on a hotshot crew. 
Hotshot crews have all the same responsibilities as hand crews. They start fighting a fire by constructing a fireline from an anchor point. Anchor points are set up so that a fire cannot flank firefighters and trap them, usually near a river, spring, or large outcropping of rock.
Firelines are trenches deep enough to have removed all combustible materials. The idea is that once a fire has reached the fire line, there will be nothing left to burn. Burnouts are another method for halting a fire. Wind permitting, a burnout is when wildland firefighters start a fire in front of the already raging fire and have the new fire eat up all of the fuel that the wildfire would soon tear through. By burning the path in front of the wildfire, firefighters are able to stop it in its tracks.
Not many have the ability to take on a position as a wildland firefighter, let alone a member of a hotshot crew. Besides for tantamount courage and unyielding spirit, wildland firefighters need to be able to endure the harshest conditions throughout all four seasons. The physical requirements are steep as wildland firefighters carry heavy equipment deep into the wilderness and as they combat the flames. Teamwork is essential for coordination. Giant fires cannot be fought alone so individuals must be able to communicate and plan with one another.
Wildland firefighter challenge coins build team camaraderie by referencing the share experiences and successes of crews. It really is a trial by fire for new members as they first enter the fray. Crewmates must learn to depend on each other. It could mean the difference between life and death. Wildland Firefighter challenge coins are team specific and represent the mission and past accomplishments of crews, reinforcing team spirit and unity. 
Get started with your custom firefighter challenge coins today!

 
Call and Speak to a Specialist Today
The Signature Coins Guarantee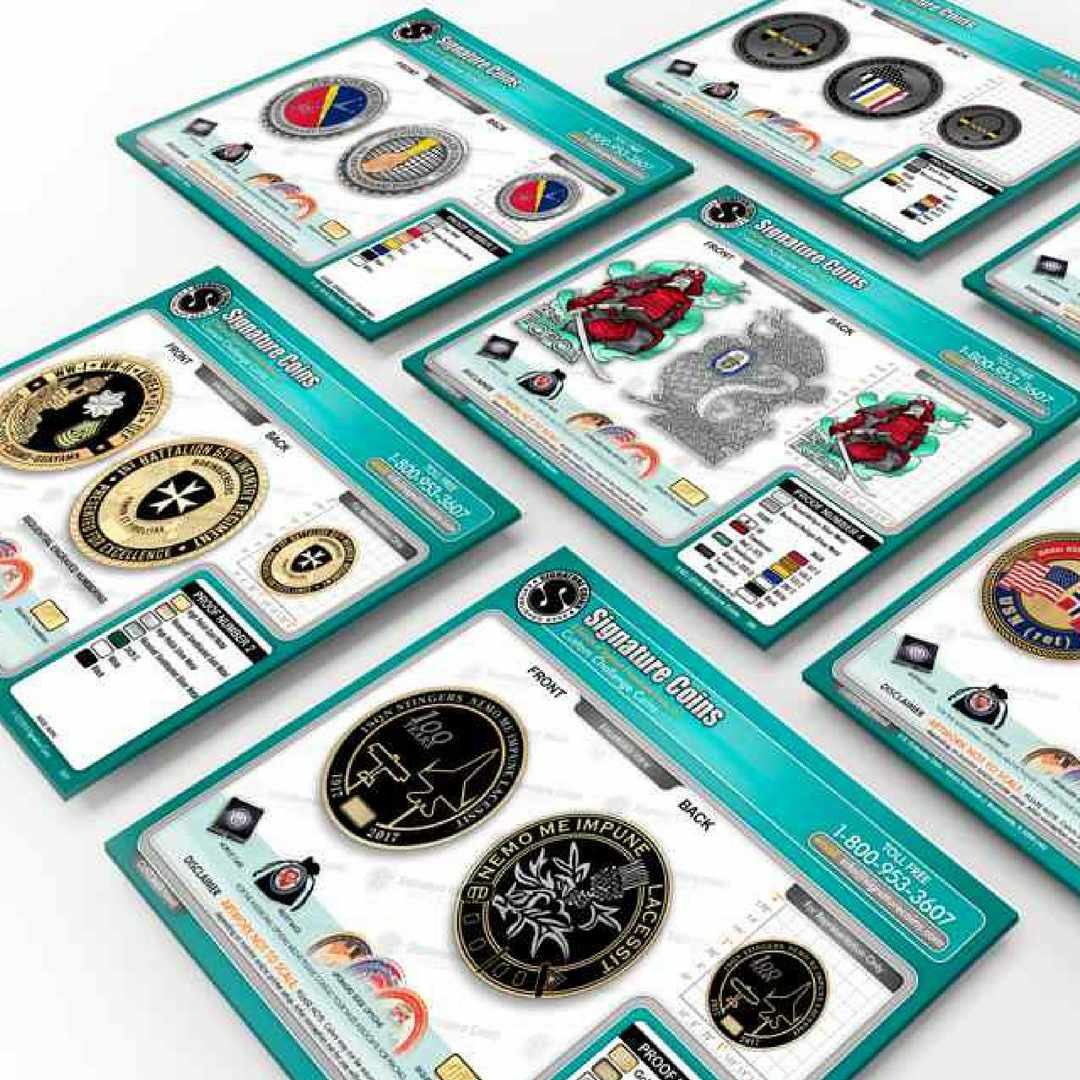 Signature Coins is committed to being the industry-leading source for custom challenge coins by sticking to our values of superior craftsmanship and unrivaled customer service. We have friendly specialists available to answer any of your questions and help you through the ordering process. Just give us a call at 1.800.953.3607 to get started!
We use materials like steel, brass, and zinc in coin construction to ensure dexterity over time. You can be sure your coins will stand up to the heat and maintain their bright colors and smooth surfaces for years to come! We offer an array of customizable features including size, shape, color, edging, and plating. You can check out a comprehensive list and all of their descriptions on our pricing page! 
We also offer:
Free artwork
Free quotes
Free unlimited revisions on design
Free UPS Air Priority shipping
14 business day delivery
100% satisfaction guarantee
Firefighters put the safety of others before their own on a daily basis. It is a selfless and commendable calling that requires unbreakable character, adaptability, and courage above all else. Wildland firefighter challenge coins represent all of the finest qualities of a crew and are used as marks of distinction. They are displayed with pride and carried with honor! Get started with your set today! We are looking forward to working with you. Thank you for choosing Signature Coins!