Transit Police Challenge Coins
Ensuring Safe Passage
Transit police officers work closely over specific areas of transport within the jurisdiction of another department. They have many of the same duties of any law enforcement official, namely apprehending criminals, enforcing laws, and keeping the peace, however, they are mainly focused on patrolling specified transit stations. This includes airports, bus stations, and train and subway stations. They will investigate crimes against the transit authority and against passengers as well as confronting culprits of vandalism, theft, or any other crime.
Transit police challenge coins, similar to law enforcement challenge coins, are used to distinguish those officers who have excelled in personal achievement, incredible service, and dedication to the force. They build camaraderie among teammates by incorporate custom design cues taken from specific departments and are meant to be displayed with pride. Challenge coins are bestowed with honor and earned through service. They are never just given away.
Signature Coins has been making challenge coins for all branches of the United States Military, as well as federal, state, and local law enforcement for over 15 years. Corporations also benefit from our services, using our custom coins for team building and to commemorate special occasions like promotions and the completion of team goals. We take special care in constructing each police challenge coin we produce to ensure that they represent the courage and esteem that goes into the service of protecting the people of the United States. 
Get started with your order of transit police challenge coins today!
Transit Police Authorities
The Unsung Heroes of Our Daily Lives
When a person thinks about a police force, they think of famous departments from the larger cities around the country like the LAPD or the NYPD. Usually, a transit police officer is not what comes to mind. The truth of the matter is that men and women all over the country benefit from the efforts of transit police officers every day. 
Whether at a bus station, an airport, or when boarding a train on the way home from work, people are coming into a world secured by transit police officers. Over 2 million people fly domestically every single day, and around 34 million people board some form of public transportation every day as well. Transit police officers are the men and women who work tirelessly to ensure to safety of each person utilizing these transit stations. 
Transit police can be employed by the transit companies themselves, or by individual states or local police departments. Just a few of the examples of organizations that we can provide transit police challenge coins for include:
Amtrak Police
Bay Area Rapid Transit Police Department
Burbank-Glendale-Pasadena Airport Authority Police
Burlington Northern and Santa Fe Railway Police Department
Los Angeles Airport Police
New Jersey Transit Police Department
Metropolitan Transportation Authority Police Department
Port Authority of New York and New Jersey Police Department
Union Pacific Police Department
Metro Transit Police Department
Massachusetts Bay Transportation Authority Police
Maryland Transit Administration Police
Members of these departments and other similar departments all over the country ensure the safety of thousands of travelers each day. Their efforts are imperative for the functioning of our transportation system. Get started with your order of customs transit police challenge coins to show appreciation for their efforts and commend their incredible service!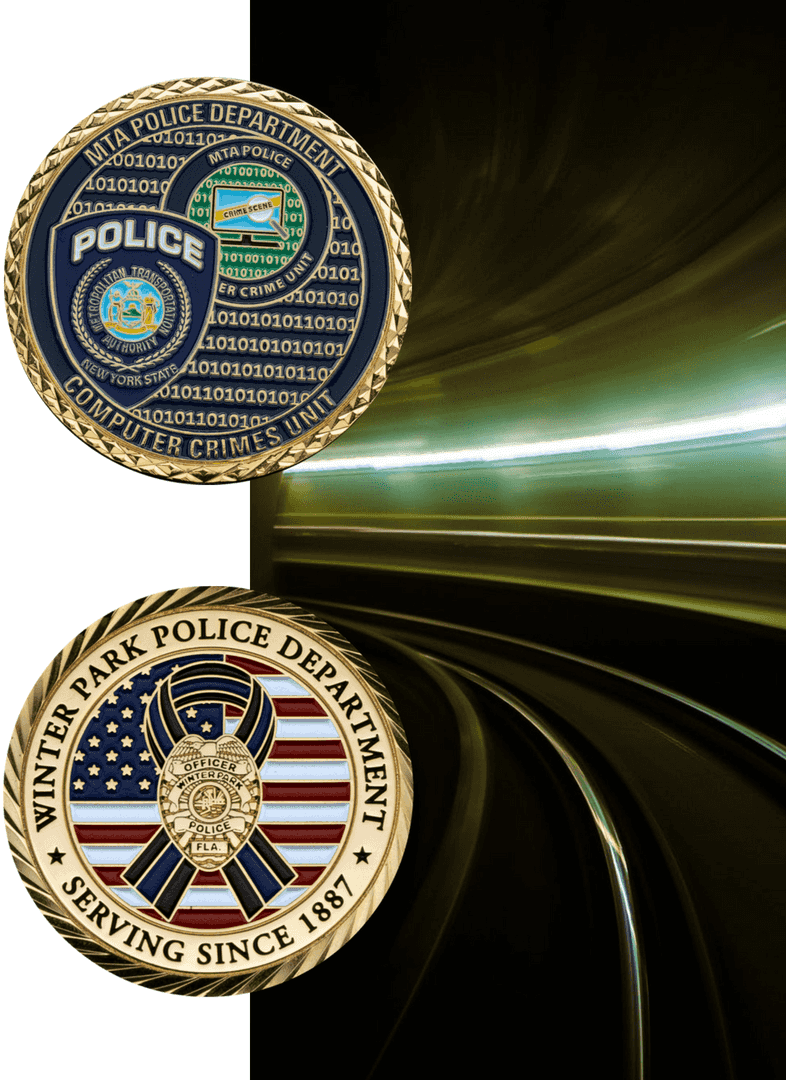 Ready To Get Started?
Custom Police Coin Examples
Daily Life Of A Transit Police Officer
Transit police officers have a general set of suspicious activities to keep an eye out for and to prevent from escalating into dangerous situations. In transit stations, as well during travel on trains, subways, airplanes, and busses, transit police look out for things like ticket fraud, pickpocketing, the selling of illegal drug, and theft of luggage or property. Vandalism is also a constant problem, especially at bus and train stations. 
Transit police officers also patrol bus terminals, railway stations, and rail yards to keep an eye out for suspicious activity. Officers are trained to apprehend unruly lawbreakers and trespassers, as well as investigate theft situation. They need to have acute deduction skills and excellent written and verbal communication skills because investigating theft requires a fine attention to detail. 
These officers work day and night to ensure the safe transit of passengers all across the country on all different modes of transportation. It is a difficult job that requires tireless commitment. Get started on a set of custom transit police officer challenge coins to recognize their dedication. Challenge coins carry emotional weight and are a perfect gift for showing gratitude for excellent service.  
We have created a simple ordering process goes from filling out an order form to holding your custom coins in hand as quickly as possible while staying true to our cornerstones of quality and customer satisfaction. Just follow the steps below to get started!
 
Call and Speak to a Specialist Today
Choosing Signature Coins
A Trusted Brand For Challenge Coins
Choosing to work alongside Signature Coins to craft unique and intricately designed challenge coins means that you will get services like:
Free artwork on every order
Free quote on every order
Free unlimited revisions on artwork
Free UPS Air Priority shipping
14 business day delivery
100% satisfaction guarantee
We see it as an honor when members of law enforcement trust us to create a set of challenge coins for their team. We do everything within our power to focus on quality assurance and customer satisfaction on all of our products. We want to make sure that the challenge coins we make set the standard of the industry and that their quality does justice in representing the bravery and the sacrifices that go into having a successful career in law enforcement. 
We want our transit police challenge coins to symbolize the dedication, vigilance, and training that goes into becoming a successful uniformed officer. They are meant to be handed out in recognition of those officers who perform above and beyond the call of duty and inspire others by setting the example. Our challenge coins are motivators and they are meaningful gifts that are carried and displayed with pride.