Police Motorcycle Challenge Coins
Honor the Unique Work of Police Motorcycle Units
Police challenge coins are used by police departments and sheriff's offices across the country to honor the brave men and women in blue who strive to keep their communities safe. In addition to the use of challenge coins, another thing all police departments have in common is the presence of motorcycle units. These collections of officers are bound to each other by a shared love of motorcycles and their dedication to protecting the lives and property of the citizens in their communities. Belonging to a special group within an already exclusive law enforcement brotherhood is a singular experience. Police motorcycle challenge coins exist to honor that special bond. 
Here at Signature Coins, we understand the specific ties that bind people together. For over 15 years, we've worked hard creating custom challenge coins that perfectly encapsulate the bonds between police officers, soldiers and firefighters. Our deep respect for the brave men and women who serve their communities has led to a strong understanding of what draws these like-minded people together. The presentation of custom challenge coins goes a long way towards strengthening those bonds. Give us a call today to honor the men and women in your motorcycle unit!
Motorcycle Police Coins and Patches
On their uniforms, officers in police motorcycle units often wear a patch signifying their belonging to the unit. The most common insignia denoting motor units is the winged wheel with an arrow through it. The wings are said to represent swiftness, the arrow represents precision and the wheel is there to represent motion. These are the attributes embodied by motorcycle units across the nation. 
The insignia also makes for an arresting challenge coin design. Coins are one of the many items used by police motorcycle units to show off their pride at being a part of such an exclusive group. These units exist within police departments to respond swiftly to traffic accidents since they can maneuver through traffic jams more easily than other police vehicles. They also provide high speed patrols and chases when needed, and they act as a kind of guard of honor during police funerals and for VIP motorcades. 
As the ceremonial face of a police department as well as an integral portion of the day-to-day law and order operations, motor units are a unique and special element of every police department. The customization options with Signature Coins give you the ability to create police motorcycle challenge coins that are every bit as special and unique as the men and women carrying them. 
Ready To Get Started?
Ready To Get Started?
Advanced Customization Options
At Signature Coins, we're excited to give you as many customization options as possible to make sure you get the best out of your custom coin order. When you partner with us in the creation of your motorcycle police coins, we want to make sure that anything you can dream up can be created by our team of specially trained artists. Along those lines, in addition to the standard customization options of size, shape and color, we offer the following advanced options:
3D Coins — Make your design stand out even more by having it pop right off of the surface of the coin.
Sequential Numbering — A prime option for the inclusion of badge numbers, add a unique touch to each individual coin by giving them a personal sequential number. The numbering option makes each coin in your order that much more special as no two numbers are ever repeated. 
Edge Numbering — If the design of your coin doesn't allow for a natural space for the sequential numbers, consider having this feature added to the edge of the coins.
Cutouts — Nothing embodies the swift freedom of a police motorcycle unit like deliberate cutouts in your coin. 
Glow in the Dark — Make sure your coins stand out day and night with our special glow in the dark enamel. 
Among the small ways customers choose to set their custom coins apart from the competition, these options give your coins a special edge over the others. In addition to the remarkable choices offered here, Signature Coins also provides you with a slew of unique and special coin plating options. 
Antique Gold — This is the most popular plating style for custom challenge coins. The recessed areas will have a slightly darker finish when compared to the raised areas. Antique plating helps to show text in higher relief, and shows less wear and tear over time. 
High Polish Gold — The classiest and most expensive looking plating option, high polish gold coins will have the same high polish finish on both the raised and recessed areas of the coin. 
Antique Silver — With a lot of the same benefits as the antique gold option, antique silver plating looks very similar to antique pewter, giving your coin a sense of age.
High Polish Silver — Another of the more popular options, each high polish silver coin is hand dipped in real silver plating and then polished to a very high shine. 
Copper — Copper can be a great, unique way to make your challenge coin stand out from the rest. Both raised and recessed areas have the same level of high polish finish.
Black Metal — There's an automatic strength and distinctness to black metal coins. Since the color of most coins have a metallic look, black metal really stands apart and increases the color contrasts almost by default.
Antique Nickel — Fairly new to the plating game, antique nickel plating looks very similar to a gunmetal which gives the coin a very durable look.
Black Nickel — Where the finish of a black metal coin can look smooth and uniform, black nickel offers an interesting matte finish contrast. 
If more than one plating option sounds good, you're always free to go with our dual plating option for a truly unique look. Through combining these options in a personal way, you'll be able to design a custom challenge coin the likes of which have never been seen before.
 
Call and Speak to a Specialist Today
The Signature Experience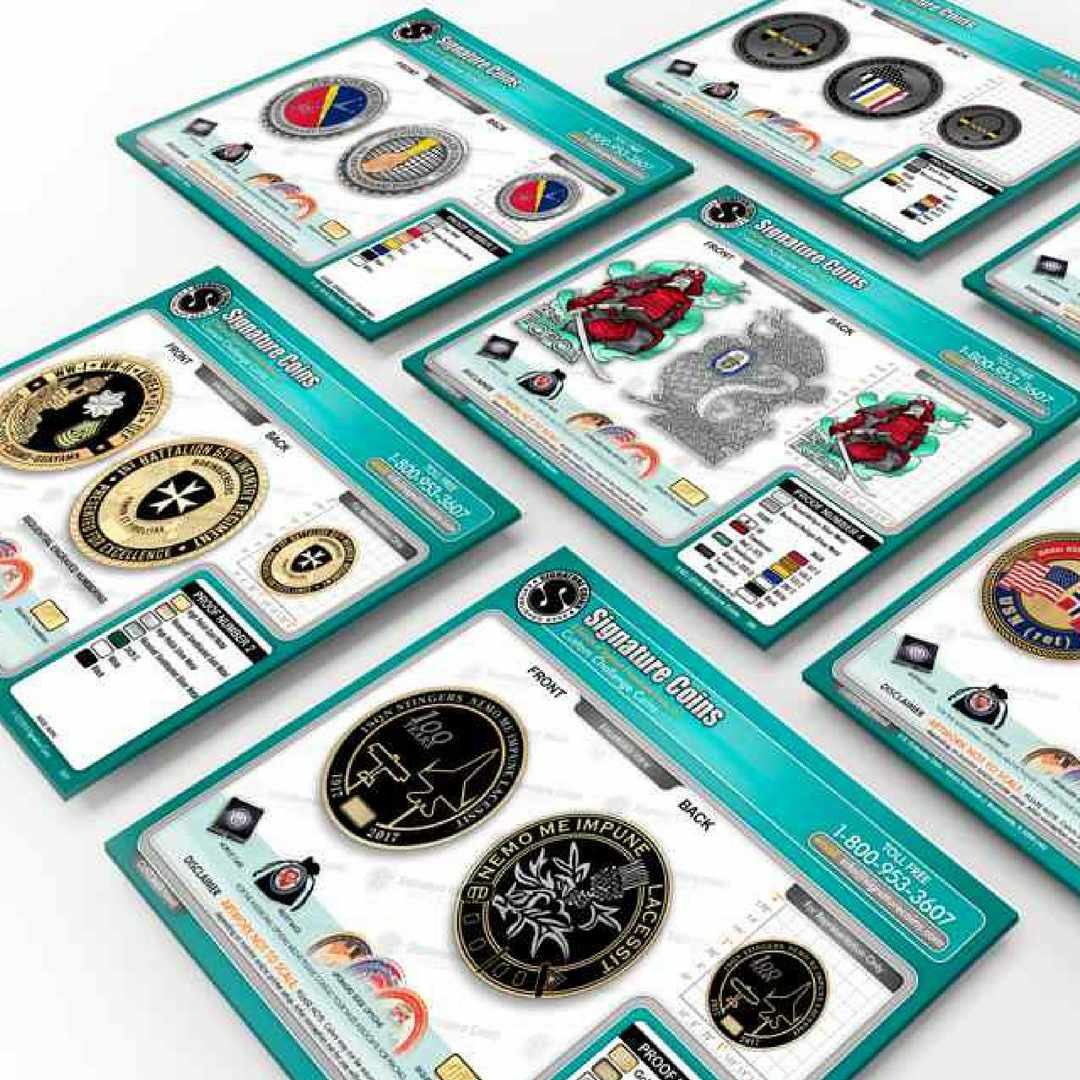 Partnering with Signature Coins to create your custom challenge coin brings you a service with over 15 years of experience working for clients in law enforcement and the military. Our specialized design process allows customers to customize nearly every part of their unique challenge coin including the shape, size, color, metal, and edge of their design. Additionally, our team of experts can craft unique designs based off of anything from existing professional artwork, written descriptions, or even napkin doodles. We understand how important challenge coins are to the organizations that commission them and the individuals who receive them and work one on one with each client to ensure that every aspect of the coin is exactly as they want it.