Police Academy Challenge Coins
Molding Our Nation's Guardians
Police academies develop the minds and bodies of every sworn officer in our Nation. They are run by individual states and have subtle differences all across the country, however, each produces highly trained and capable officers. The general stereotype of police officers eating donuts all day is misguided when you take into account the physical requirements of each academy.
The recommended preparation for police training in Los Angeles takes recruit hopefuls through an eight-week program that demands 75 push-ups and 100 crunches a day in the final week. This regiment is only to prepare for the academy. In general, recruits are tested upon entering the academy and go through rigorous physical training throughout the entirety of the program. The final scores are compared to their entrance scores to determine improvement and ability to manage police work in the field. 
Most police academy programs are six to eight months long and average 720 credit hours. The LA Police Academy's coursework in comprises of 828 credit hours and broken down as follows:
Academics……………………………………... 230 hrs
Driving………………………………………….. 40 hrs
Firearms ………………………………………….113 hrs
Law ……………………………………………...105 hrs
Physical Fitness ………………………………..142 hrs
Tactics …………………………………………...48 hrs
Expertise in these areas of study is imperative for every sworn officer. Even after academy training, police departments have teams of officers go through certification and additional training periodically. For recruits training to be police officers, and cadets training to be state troopers, proficiency in these areas could be the difference between life and death in the field. 
It takes dedication and determination to excel as an officer of the law and complete academy training. Police Academy challenge coins are a mark of accomplishment and pride for every recruit, cadet, and active officer. Each is custom designed for individual police academies and represent core values for every officer like integrity, courage, and trust. 
Signature Coins handcrafts police challenge coins for department spanning the entire nation. Our police academy challenge coins are handed out to new recruits as they enter the academy and throughout training to recognize excellent performance, improvement, and integrity. At graduation, new officers are awarded special police academy challenge coins that they have earned through long months of sacrifice and perseverance. Each coin is taken with a strong sense of pride and carried for a lifetime.
Academy Life
When To Use Police Academy Challenge Coins
Most police academies require recruits and cadets to live on campus in dorms. Lights are out at 10pm every night, and training starts at 5am the next morning. Personal conduct is under scrutiny for the duration of stay at a police academy to prepare recruits for life as an officer of the law. Professionalism and integrity are held in high esteem and demanded of every hopeful trainee. Appearances are kept in check as well. Men have military style haircuts, and women cannot wear cosmetics or jewelry. Everyone wears military fatigues and shined shoes. Every officer is a reflection of the organization, so standards are high to ensure the reputation of a controlled and capable law enforcement. 
Police departments hire future officers and send them to the academy for training. To be considered for admittance into a police force, requirements most often include:
Passing a written test
Passing a fitness test
Passing a background check
Passing a drug test
A high school diploma or GED
At least 2 years of higher education
Entrance standards vary from state to state, however, most departments abide by these outlines. There is also a minimum age of 21 for all hoping to join a police academy. Police academy challenge coins are a reflection of these requirements, achievements, and ambitions. Every applicant that earns a place among the police academy halls has earned a chance to prove their self as a capable sworn officer. 
Police academy challenge coins are given to recruits and cadets as they enter the program. Artwork of the school grounds, emblems of the academy, and police mottos are inscribed into coin design, setting the standard of excellence and outline the code of conduct for every recruit. Police academy challenge coins create a shared vision for all recruits, binding them together through shared experience and creating strong bonds. They cultivate a culture of teamwork and help teach officers how to rely on each other, just as they will need to rely on their partners in the field.
Legal instruction is a huge part of academy training. To enforce to law, every officer needs a firm understanding of the law. It is imperative for officers to learn about things like civil liability, observation, seizure, and ethics. There is also instruction on how to act under adverse questioning and hostage negotiation. Everything in the academy is tuned to shape recruits into capable police officers that can respond decisively in high-stress environments with precision. 
Physical coursework includes martial arts, defense, firearms training, and much more. Officers need to be prepared to subdue belligerent lawbreakers while providing safety for themselves and criminals being detained. While brute force is sometimes necessary, officers take every precaution possible to ensure no lasting damage is caused to arrestees. 
Police academy challenge coins are awarded to officers throughout the program as they reach milestones in their academic careers, when they earn certifications, and when they set the example for excellence in service. Recruits and cadets train for high stress and high stakes situations. Complete dedication is demanded of each sworn officer in the field, and police academy recruits fight to find their place among them. Each deserves recognition and honor for their sacrifice, their service, and their commitment. 
Police academy challenge coins are a symbol of how a recruit has earned the right to wear blue with their fellow officers. They are never given away. It takes time, commitment, sacrifice, and excellence to earn a police academy challenge coins. Officers carry them for a lifetime and display them with pride as a mark of distinction.
Ready To Get Started?
Ready To Get Started?
Police Departments Across the Country 
Honor And Pride In Service
In 2016, the NYPD had over 36,000 sworn officers in service and a total of over 50,000 employees. The New York Police Department is perhaps the most recognizable law enforcement organization in the country and is easily the largest in our Nation. The next biggest is the Chicago police department with just under 12,000 sworn officers, almost making up a third of the total size of the NYPD. 
Police academies are the catalysts for each officer's career, no matter what department they serve. Cadets and recruits are often hired by specific departments like the NYPD or CPD before starting training. Tuition for the police academy they attend is covered as the training is apart of their job as future officers. Large police departments order custom police academy challenge coins with department mottos and emblems forged into coin construction and hand them out to recruits. 
The custom coins are a small piece of department history pressed into metal. Recruits carry police academy challenge coins that personify the values of honor, pride, and integrity as a reminder of their oath to protect and to serve. 
Some of the largest law enforcement departments in the United States that use police challenge coins to show appreciation and honor to their officers include: 
Chicago Police Department (CPD) 
Police academy challenge coins embody the character of these organization and inspire recruits to endure training and earn a place among the incredible protectors of our Nation. Get started on your custom set of challenge coins today by following one of the links below!
 
Call and Speak to a Specialist Today
Signature Coins
A Trusted Source For Police Academy Challenge Coins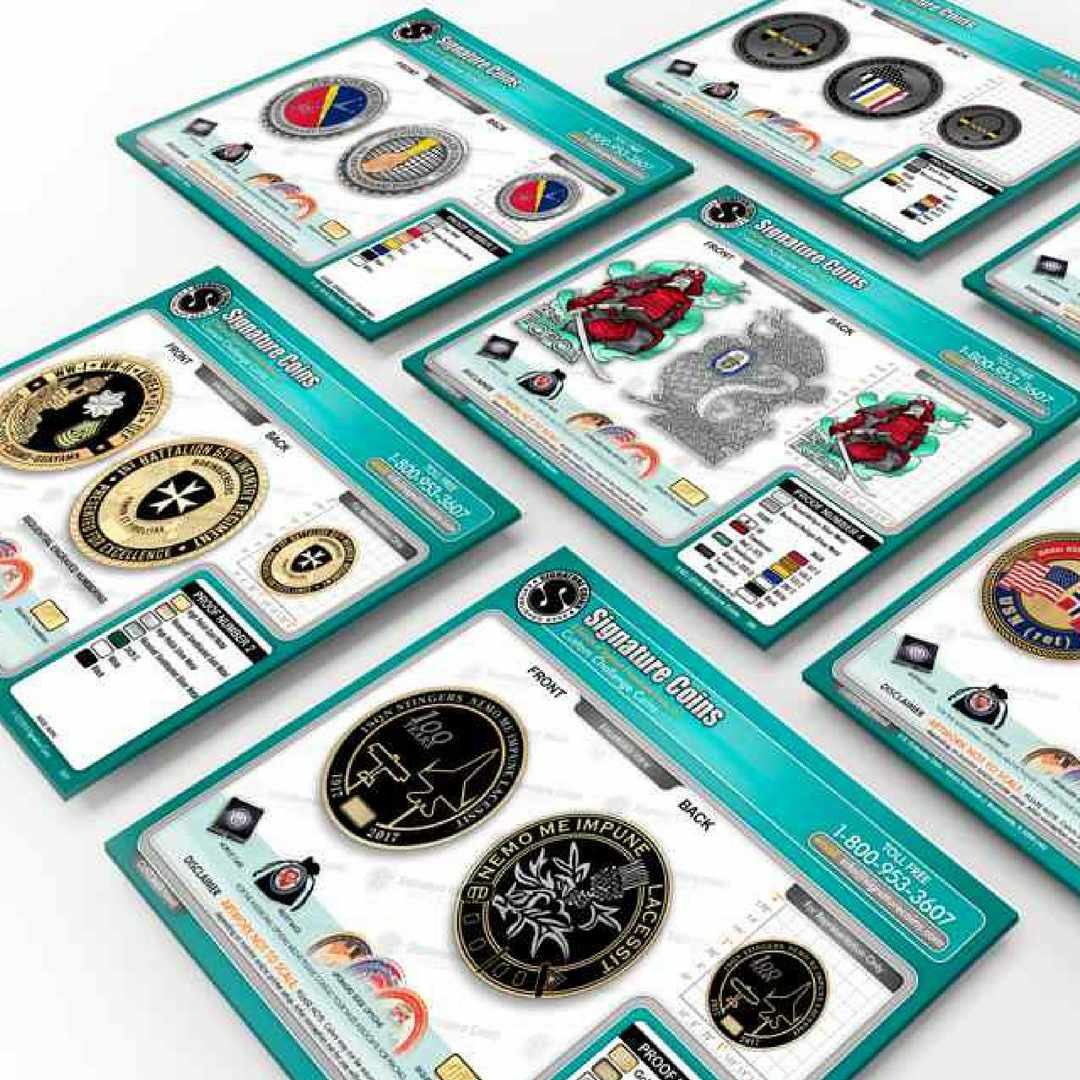 For over 15 years, Signature Coins has delivered unique challenge coins to law offices and organizations all over the country. Our goal is to give each client the opportunity to see their vision for custom artwork come to life. By offering superior services, our team has earned a trusted reputation and become the go-to source for custom coins used in:
Graduations
Retirements
Promotions
Team building
Commemorative ceremonies
Awards
And more!
Police academy challenge coins exemplify the character of sworn officers. We take special care to ensure coin construction reflects the sacrifice, comprehensive training, and honor that being a police officer entails. Commemorative dates, precinct codes, slogans, and emblems are just a few of the common aspects of design that add personal and meaningful value to coins. Officers earn police academy challenge coins and carry them with a strong sense of fulfillment. Get started with your coins today and receive:
Free artwork
Free quotes
Free unlimited revision
Free UPS Air shipping
100% satisfaction guarantee
Our design staff will get started on your first free proof of artwork after you fill out an order form. If you have any questions or concerns, please reach out to us. We are happy to help in any way that we can! Thank you for choosing Signature Coins! We are excited to get started!