Orlando Police Department Challenge Coins
The Orlando Police Department (OPD) is a professional law enforcement organization tasked with protecting the people and communities of "The City Beautiful." The City of Orlando is famous worldwide for its bustling theme parks, live music events, world-class shopping, and live shows, which all attract one of the most active tourism industries in the nation. With a local population over 2.3 million residents and a transient population of millions who visit Orlando's booming tourism industry, OPD employs over 700 officers and support staff to work tirelessly each day protecting lives and investigating crimes within the city's limits. 
At Signature Coins, we design custom police and law enforcement challenge coins of the highest quality, along with all other types of custom challenge coins in Orlando. Our products are used to honor officers and uniformed servicemembers in organizations all over the country and worldwide. Within the Orlando Police Department, challenge coins represent the culture and responsibility of their officers who put on their uniform each day and dedicate themselves to their local communities. Our company is proud to do our part in creating custom challenge coins recognizing law enforcement officers like the members of the Orlando Police Department for their exceptional duty and service.
Organization of the Orlando Police Department
To cover a large geographical area and to meet a variety of different responsibilities to accomplish their mission, OPD officers are organized according to five different bureaus. Each of these bureaus is further organized into more specialized units accomplishing specific roles or responsibilities. These specialized units or divisions commission unique often unique challenge coins to represent their role in the larger police organization. 
The five bureaus of the Orlando Police Department include:
The Administrative Services Bureau 
Responsible for recordkeeping, recruitment, managing calls, and maintaining the department's collection of evidence. The Administrative Services Bureau is further divided into four specialized units to fulfill its responsibilities including:
The Support Services Division - Responsible for essential support tasks including witness management, recordkeeping, criminal intake, and supply management of patrol officers.
Property and Evidence - The Administrative Services Bureau works to return stolen items to their rightful owners and to store money or contraband that has been seized as evidence.
The Communications Division - A team of police dispatchers who responds and manages calls for police, fire, and emergency services.
The Recruiting Unit - Recruits new personnel for the police department.
The Chief's Staff
A bureau of staff who provide essential information to the Chief of Police, addresses the press, and advises on legal matters.
The Staff Director - Reports directly to the Chief of Police and manages both the department's media relations and Police Chaplains.
The Criminal Justice Section - Legal advisors who advise on search warrants, contracts and labor, and employment issues. Also handles civil forfeiture cases regarding money used for crime prevention and vehicles.
The Professional Standards Division - Oversees the training and strategic management of the department.
The Investigative Services Bureau
Primarily made up of investigative staff such as detectives and analysts who are charged with investigating crimes throughout the City of Orlando.
The Criminal Investigation Division - Investigates violent crimes, including assault, robberies, stalking, domestic violence reports, homicides, and missing persons. 
The Property Division - Charged with investigating crimes related to thefts, burglaries, fraud, burglary, and grand theft auto.
The Drug Enforcement Division - Operates throughout Orlando to investigate illegal drug activities throughout the city.
The Violent Crimes Initiative - A team of detectives and crime analysts who collect crime data to research past crimes and prevent crimes from happening.
The Patrol Services Bureau
The main muscle of OPD and the most commonly sighted members of the department, the Patrol Services Bureau actively patrol communities, provide security at community functions, and provide rapid response to crimes throughout the city.
North Patrol Division - Consists of a Patrol Unit and a Neighborhood Patrol Unit that works to use community policing strategies to engage communities in identifying and helping solve crimes.
West Patrol Division - Patrols the densely-populated area around International Drive and organizes Tactical Anti-Crime Squads charged entering areas of Orlando facing crime trends.
East Patrol Division - Charged with investigating non-emergency law enforcement responsibilities including traffic incidents and non-violent crimes.

Ready To Get Started?
Ready To Get Started?
Challenge Coin Examples
Police Department Challenge Coin Gallery
Custom law enforcement challenge coins are used in police departments to instill a sense of camaraderie and membership between different members of a police department and to remind them of their duty to local communities. The coins themselves are collectible tokens of recognition with origins in the military, though they have since become popular with other organizations in the government and with civilian agencies. 
Within law enforcement organizations like OPD, challenge coins reward officers for their duty and are also used by officers on occasion to recognize outstanding members of the public who help identify or solve crimes. Police challenge coins may also be traded to members of different police departments as a sort of cooperative memento commemorating a joint venture or meeting. 
While it's common for individual units to maintain their own challenge coins between their members, police chiefs and other higher-ranked officials may also commission their own custom set to be gifted out to outstanding officers, staff, or members of the public who have earned their personal regard.
Call and Speak to a Specialist Today
Signature Coins Services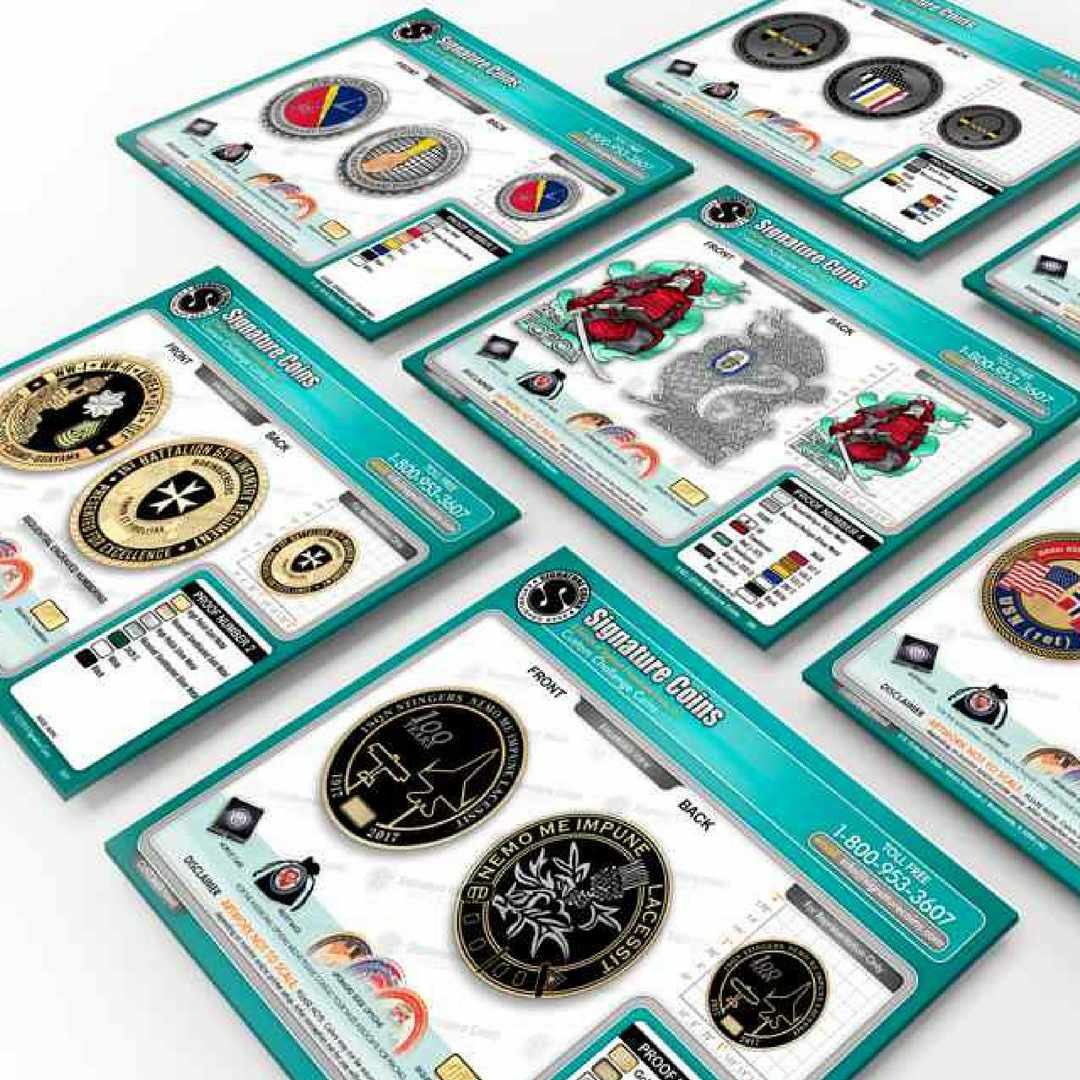 Signature Coins has been a leading provider of unique custom challenge coins for over a decade. Our team of experts works tirelessly to create unique challenge coins that honor and recognize the efforts of law enforcement organizations like the Orlando Police Department. 
Partnering with our company means partnering a team of experts with experience and knowledge in creating consistent high-quality products. We keep clients updated throughout the entire design process so they always know what stage of production their order is in. With a team including military veterans, we understand how important these products are to their recipients and perform our best effort to make sure our clients are completely satisfied with our products. 
Trust us to bring your unit quality challenge coins, reliable service, and a name you can trust at Signature Coins.
Our services include:
Free Artwork and Quote for All Orders
Free Unlimited Revisions for All Designs
Free UPS Priority shipping for All Orders
Mold and Setup for Orders Over 300
100% Guarantee on Quality and Workmanship