Custom Police K9 Challenge Coins
A Partnership That Lasts a Lifetime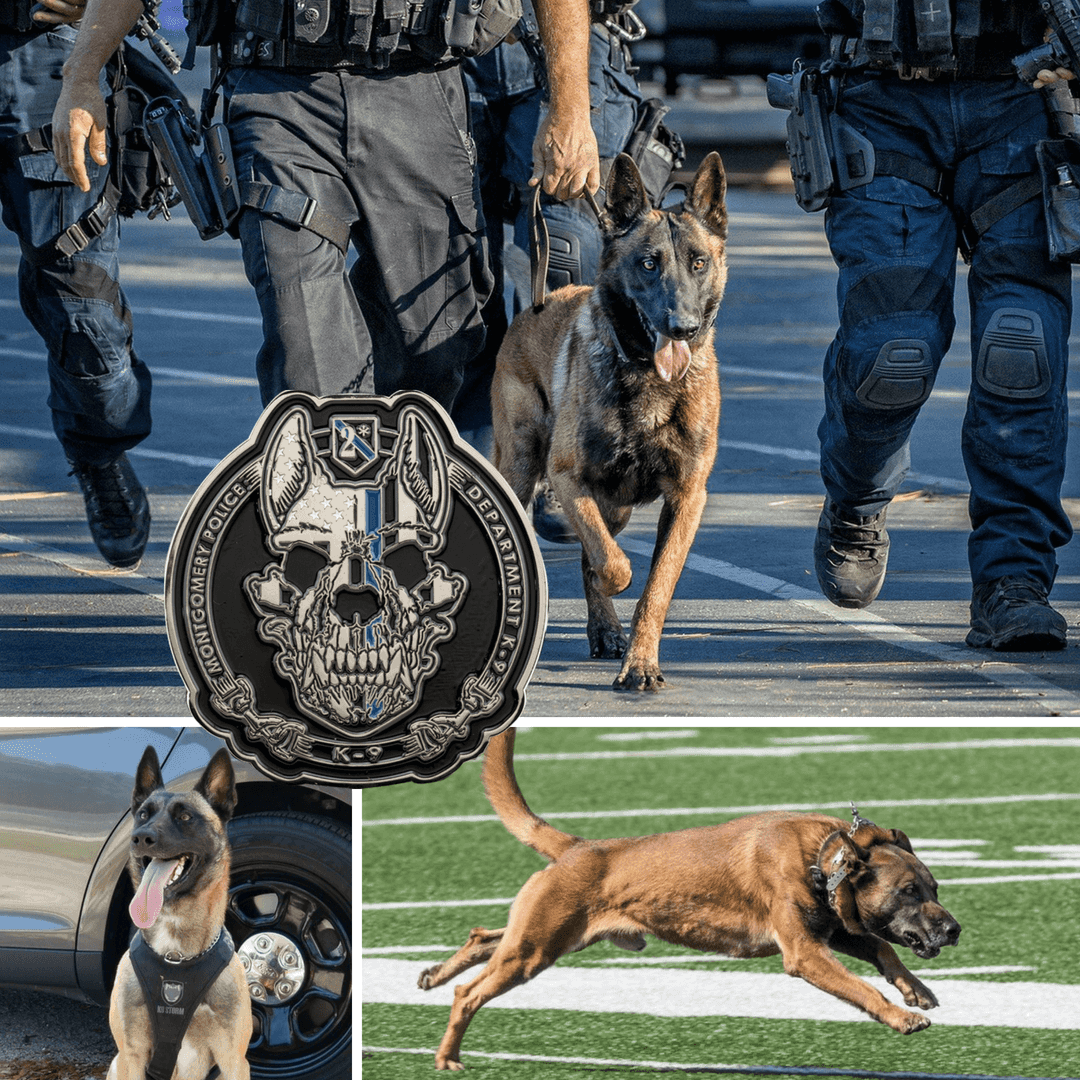 No one is able to pinpoint the exact moments when humans were able to domesticate dogs, however, mankind and dogs have been working side by side for hundreds of years. Dogs of every breed are kept as pets and made a part of the family. They are used as emotional support animals, service animals, and as guide dogs for the blind. 
The use of dogs within the police department has been prevalent throughout the United States for many years as well. K9 units specialize in the areas of search and rescue, drug and explosive detection, as well as protection and regular patrol with their handlers. With their keen sense of smell, incredible vision, and intelligence, police dogs can be trained to aid officers in areas no human could be able to accomplish on their own.
Police K9 challenge coins commemorate the selfless animals who dedicate their lives to the force and work every second of every day to keep their fellow officers safe as well as the citizens of our county. K9 units are indispensable teams that work tirelessly to ensure training and execution are held to the highest level of excellence at all times. 
At Signature Coins, we have been a trusted source for police challenge coins since we first opened our doors. We take special care in creating original designs and supplying high-quality challenge coins that do justice in representing the service men and women of our county. They are physical symbols of an officer's promise to uphold our laws and protect our citizens and are a perfect way to show respect and gratitude for their sacrifices and commitment.
Building a K9 Unit
Training starts early. As puppies, future police dogs are taken in by an officer who will oversee all of their training and be their lifetime partner. Living in a normal family with their owner gives the pups much needed social development while also instilling a strong sense of loyalty to their partner and allows for the beginning of their police K9 unit training.
It is becoming more common for law enforcement to purchase their police dogs from overseas. Many European dogs are specially bred for police work and put through obedience training before they ever enter the police force. Once a dog has completed endurance and agility training, further obedience training, and specialized training in the States with their handler, they are finally ready to hit the streets. 
A day in the life of a K9 unit is pretty standard. They answer regular calls that normal police units cover as well, however, having a highly trained dog on your team makes for a number of unique strategies that normal units are unable to do on their own. Many police dogs are cross-trained for both drug detection and explosive and firearm detection as well as search and rescue. Airports, border patrol stations, schools, and even large theme parks and shopping centers use K9 units for all of these things. Police officers are trained to detect suspicious activity and to recognize dangerous situation but there are some things no human can do on their own. 
Even after a K9 unit has earned their certifications and begun work with the department, both dog and partner must constantly train and update certifications to make sure both are well equipped for success and their skills and teamwork are at their best.
Police K9 challenge coins are designed to display the unique and noteworthy attributes that make a team so special. They do honor to the service, dedication, and sacrifice of officers all over the country, and are meant to be kept close by at all times as a reminder of the oath to protect and serve! All artwork is completely original so you can be sure the coins you receive will be unlike anything else in the world. For K9 units, popular design cues to include are names, designations, department emblems, and depictions of the animal in the K9 unit. Take a look at our coin gallery and see what we have made in the past, or get started now with your free artwork and quote!  
Ready To Get Started?
Custom Police Coin Gallery
Common Breeds in K9 Units
What Makes K9 Units so Special?
For one thing, a dog's sense of smell is fifty times more sensitive than a human's. This alone opens a large range of possibilities. Dogs have been used to track suspects who have fled the scene of the crime and search for missing persons or injured people after accidents or disasters. Dogs are also trained to sniff out drugs, chemicals found in explosives, and guns. Where a normal officer would have to hand search people, bags, and containers a police dog can use their nose to sift through a crowd and group of objects quickly and easily. They cover more ground and they do it faster! 
A dog's visual acuity is incredible as well. They can see better at night giving them the ability to move with confidence and lead officers in the right direction, as well as take down a suspect on their own. With an incredible ability to hear, police dogs can also be trained to react to subtle sounds that could mean imminent danger to their partner or other members of the police force. A moment's warning could be the difference between life and death.
On top of all of this, officers have said that just having a dog with them can prevent physical conflict. Suspects understand that dogs cannot be reasoned with or bullied. 
All of these things and so much more come together to make an incredible, indispensable team that is a police K9 unit. Get started with your department's custom K9 unit challenge coins today!
Get Started Today!
Dogs are selfless, lovable, and dedicated companions. In domestic life, you can count on them to be loyal members of the family, watch over you, and protect you when they see you are threatened. In the line of duty dogs act in much the same way. Police dogs put the life of their partner, as well as other members of the department, above their own. They follow commands without hesitation and work tirelessly to ensure the safety of those men and women with whom they serve. Police K9 challenge coins honor their commitment, dedication, and love for their team. 
Signature Coins has been making custom police challenge coins, as well as firefighter, first responder, and military challenge coins for over fifteen years. We have earned the trust and return business of our clients through a commitment to quality and customer service. With every order, we include services like:
Free Artwork and Quote
Free Unlimited Revisions
Free UPS Priority Air Shipping 
14 Day Delivery on Completed Orders 
100% Satisfaction Guarantee
Thank you for choosing Signature Coins, and we look forward to working with you!