FBI Challenge Coins
Top Quality Challenge Coins to Reflect the Work of the FBI
Originally a tradition exclusive to the U.S. Military, organizational challenge coins are now a common tradition among members of law enforcement including the Federal Bureau of Investigation (FBI.) FBI challenge coins are used to honor and recognize the important role of FBI agents in providing national security against terrorism, espionage, cyber attacks, and organized crime. In the fulfillment of their duties, FBI agents face constant risk to protect American citizens from harm both from within and without.
Signature Coins has been producing high-quality custom government challenge coins for the FBI and other members of our nation's law enforcement. We've crafted coins in every shape, size, and color imaginable to fit the needs of our clients and back all our products with a 100 percent quality guarantee. Trust us to deliver consistent quality at quick turnover times.
What are FBI Challenge Coins?
Organizational challenge coins are a unique tradition with roots starting in the U.S. Military. Law enforcement organizations, including the FBI, exchange challenge coins across the nation to award agents who have performed exceptionally in the completion of their duties. Sworn "To protect the American people and uphold the Constitution of the United States," FBI agents across the nation exchange unique challenge coins as symbols of their membership and reminders of their duty.
Individual offices, resident agencies, and field agencies may all have custom designed challenge coins awarded to their agents in order to build morale and serve as reminders of their duty. No two challenge coins from different offices are the same, with each one uniquely customized to represent the camaraderie and service men and women who are dedicated to protecting the nation.
Challenge coins were traditionally used in the military to prove membership to a specific unit or organization and soldiers were expected to always carry challenge coins to be readily produced when called for an informal "coin check." Likewise, many FBI agents carry challenge coins on them to be readily presented between team members as a demonstration of group cohesion. Some FBI offices may also gift their unique challenge coins to members of the public who have acted with distinction in a crisis or provided key aid.
Ready To Get Started?
Custom Law Enforcement Coin Gallery
Types of FBI Challenge Coins
We have dozens of features that can easily be added to your challenge coin.
Designing Challenge Coins With Signature Coins

With over 15 years of experience working in the industry, we have developed an easy three-step process for designing an organization's challenge coin quickly and painlessly. Our company hosts a team of professional graphic designers and artists who are ready to help you with every part of the design process. We don't need completed artwork or designs to start the process, all we need is a general direction and we'll do the work to implement any significant symbols, emblems, or slogans of an organization.
Receive your custom challenge coins in three simple steps:
Send the basic details of your challenge coin with our site's quote form, and we will send a free digital color art proof of your design along with a price quote for your project within 24 to 48 hours.
Review your color proof, spelling, and design for mistakes, and make unlimited revision requests until you are 100% satisfied.
Finish the custom coin process by completing our online order form, then receive your challenge coins in 14 days or less, through Free UPS Priority Air Shipping.
We offer 100% guarantee on the craftsmanship and quality of all our products!
 
Customize Your Challenge Coins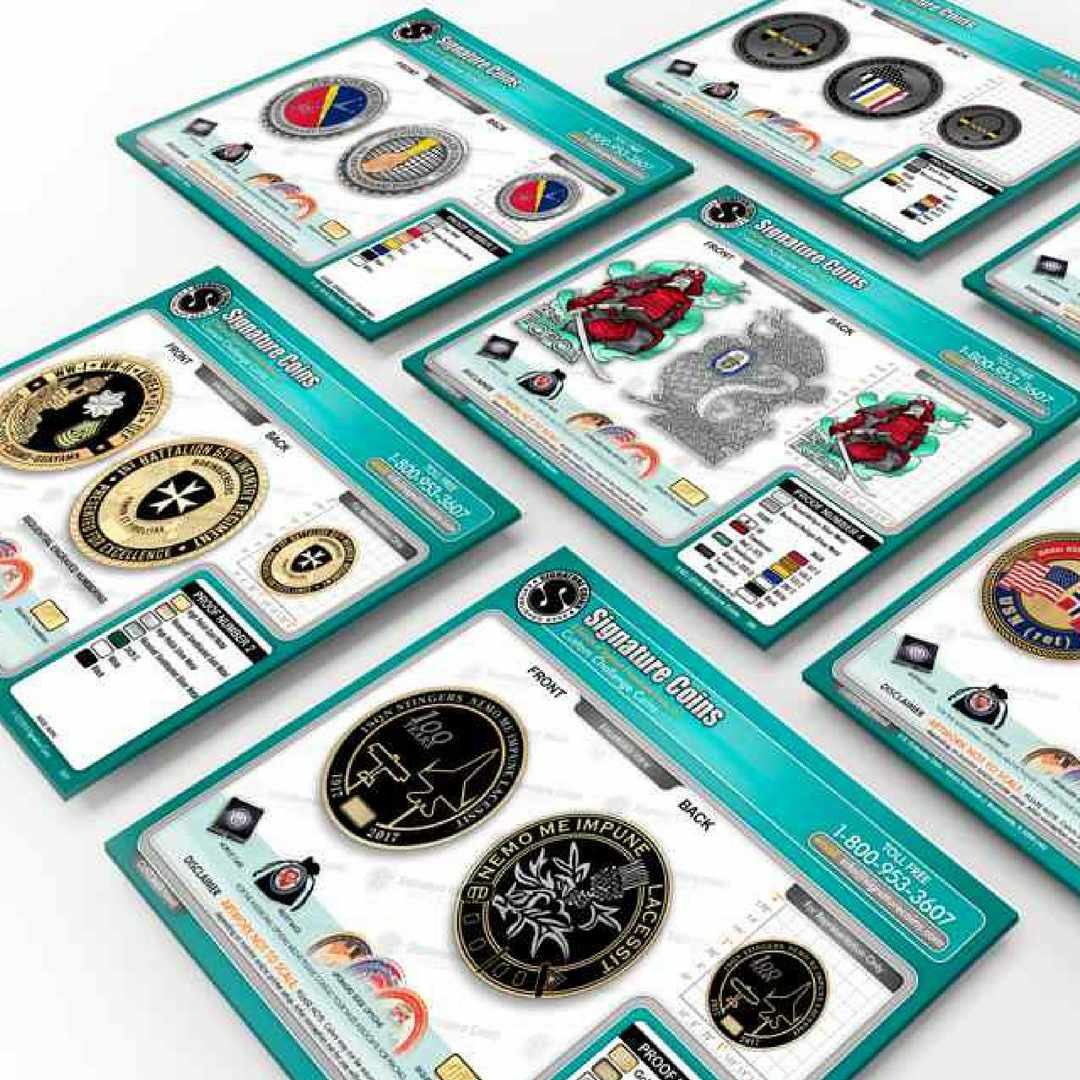 At Signature Coins, our design process allows all clients to customize every part of their custom coins from simple changes like size and shape to final presentation and edge numbering. Most challenge coins we've made for the FBI have been anywhere between 1" to 3" in size. However, we've made coins as large as 9" for clients and as small as a quarter. We recommend our clients order coins at least 1.75" in size for the best balance between detail, size, and cost. Coins can be decorated on one or both sides with unique designs including event names, mottos, significant dates, or other meaningful symbols.
Challenge coins are traditionally coin-shaped discs, but modern challenge coins have taken any shape or size imaginable. Some organizations choose to shape their challenge coins in the shapes of badges, symbols, or mascots to more closely connect with the organization's philosophies and nature.
Our list of customization options includes:
Color - leave a challenge coin in its natural metallic plating or have a design painted with up to seven colors on either side chosen from the full Pantone color spectrum. We also offer premium paint options and can go beyond seven colors upon special request.
Coin Edge - We offer up to six different edge options to decorate every coin, these options each provide a unique look and feel to each order that helps distinguish a coin from the larger collection.
Coin Cut Outs - Interior areas of a challenge coin can be cut out to create unique hollow designs.
Sequential Numbering - Challenge coin orders can have sequential numbering on each design to ensure each coin a recipient receives is truly unique.
Plating - Choose to plate your coin in antique gold, silver, or copper. We also offer double plated coins to create and highlight key details.
3D Coins - Allow specific details or elements of a design to literally pop or stand out of a coin's surface by ordering a 3D coin.
Offset Print - Offset printing creates an exact replica of an image or photograph on the surface of your coin.
Silk Screen - Create a perfectly smooth coin surface by silk screening your design's colors onto the coin.
Epoxy Dome - Create a glassy and smooth finish over one or both sides of a coin with an epoxy dome.