Custom Car Salesman Challenge Coins Replace Traditional Business Cards
Posted by Signature Coins | August 15, 2014 at 9:59pm | Topic: Car Dealership Coins
Are you a car salesman looking for a way to stand out in a crowd? Are you tired of not getting the sales that you deserve because your phone isn't ringing and people aren't coming to your lot like they used to? If you answered "Yes," we have an idea for you.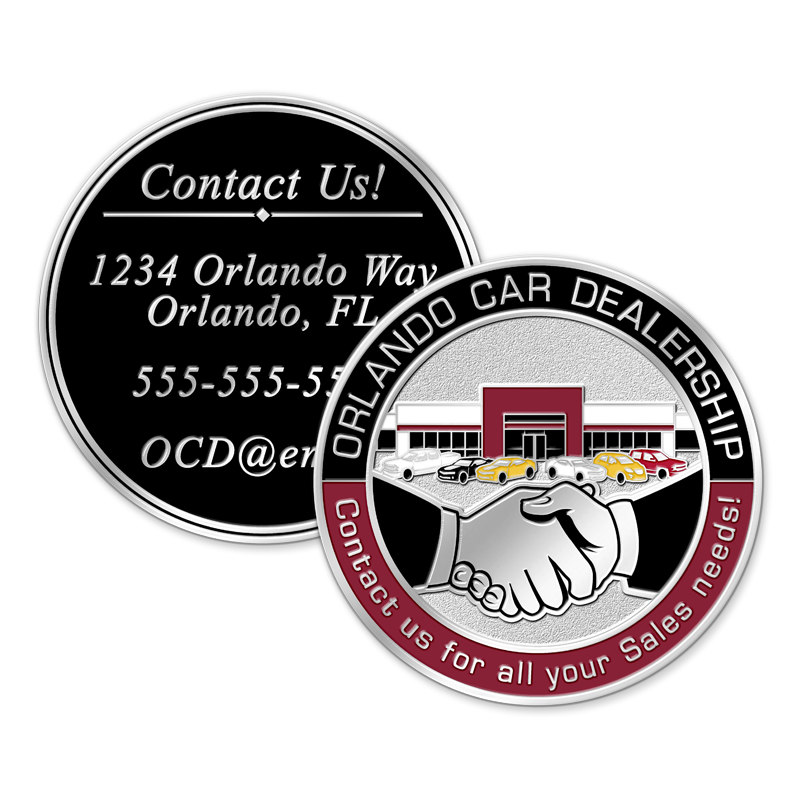 Think Outside the Box
It's time to think outside the box. Perhaps a novelty item will help boost sales. Rather than give customers a paper business card that wears down over the course of time, give them a metal custom challenge coin in your choice of size, shape, and style. That's one way to make a long lasting impression.
Perhaps a 3D image will make your coins stand out. How about a decorative edge? Will cut outs be an option that enhances the artwork? Or, would silkscreens be a better choice? We give you the freedom to explore and experiment with your coin designs. Revisions are part of the process and something that we can take care of for you upon request.
Quality Materials, Quality Coins
Custom coins are crafted with care using the best materials available. This helps them last. If a coin goes through the washing machine, no worries. The same can't be said about paper business cards. One wash and the paper is completely destroyed.
People will remember you by the gift that you give them. They won't hesitate to call you when they're in the market for a new vehicle or a second vehicle. Custom challenge coins encourage sales. In fact, if they have your phone number, email address, and website URL on them, the items will be hard to miss.
Send Us Your Request So We Can Send You a Free Price Quote
Create custom challenge coins in place of traditional business cards. Let us know how we can make your design memorable. We offer a number of custom options meant to fulfill your needs. Email your request to us at info@signaturecoins.com. If you'd rather speak to us directly, please call 1-800-953-3607 toll-free.
We offer free artwork and design services as well as free shipping to a US address. It's our way of taking good care of our customers. After all, we're here to assist you every step of the way.
Take advantage of our free artwork and design services. Ask about our free shipping option to a US address. We can make arrangements for your coins to be delivered to your home or workplace, whichever you prefer. Email or call to find out more about our complimentary services.