Boston Police Department Challenge Coins
Celebrating the Oldest U.S. Police Department with Boston Police Department Challenge Coins
The earliest form of the Boston Police Department began in 1838. The day police were distinct from the city's nightwatch and consisted of only six officers organized under a single marshall. Since then, the Boston Police Department has grown to one of the largest agencies in New England. Responsible for the safety of 685,094 people, the brave men and women of the BPD work hard to keep a bust metropolitan city operating smoothly. Honoring their hard work and selflessness is as easy as presenting them with custom police challenge coins. 
At Signature Coins, we design custom police and law enforcement challenge coins of the highest quality, along with all other types of custom Massachusetts challenge coins. Our products are used to honor officers and uniformed service members in organizations all over the country and worldwide. Law enforcement challenge coins represent the culture and responsibility of brave officers who put on their uniform each day and dedicate themselves to their local communities. Our company is proud to do our part in creating custom challenge coins recognizing law enforcement officers like the members of the Boston Police Department for their exceptional duty and service.
BPD Challenge Coins for Different Bureaus
Like other police departments, the Boston Police Department divides its organization amongst different departments, or bureaus, to keep things running smoothly. Each of the different bureaus have different aims and tasks to accomplish in the overall mission of protecting the people and property of Boston. Working in each of the different bureaus also offers its own opportunities for distinction and achievement. 
The different bureaus of the Boston Police Department include:
Office of the Police Commissioner

Office of Research and Development
Office of Administrative Hearings
Office of Legal Advisor

Office of the Superintendent-in-Chief

Family Assistance Unit
Dignitary Protection Unit
Peer Support Unit

Bureau of Field Services

Special Operations Division
Tactical Operations
Environmental Safety Group
Special Events Management
Patrol Divisions
Field Support Division
School Police Unit

Bureau of Investigative Services

Civil Rights Unit
Investigative Planning Unit
Major Case Division
Criminal Investigation Division

Bureau of Professional Standards

Anti-Corruption Division
Internal Affairs Division
Auditing and Review Unit

Bureau of Professional Development

Academy Division
Student Officers Group
Firearms Training Unit

Bureau of Intelligence and Analysis
Bureau of Administration and Technology

Administrative Collections Unit
Operations Division
Evidence and Supply Management Division
Fleet Management Division
Technology Services Division
Police challenge coins in each bureau can be utilized to welcome new transfers to the team, in recognition of promotions, or to single out remarkable officers for their exceptional service.
Ready To Get Started?
Ready To Get Started?

Irish Challenge Coins for the St. Patrick's Day Parade
In any city, parade days are a time of great celebration and tradition. They can be days where the citizens relax and celebrating the history, heritage and customs that make their cities special. Never is this more evident than during the St. Patrick's Day Parade in Boston. While this day is a time to let loose for the proud Irish citizens of the city, it's a busy work day for the brave men and women of the Boston Police Department. 
While the Roman Catholic feast day of St. Patrick has been observed since as early as the 10th century, parades weren't held in honor of the holiday didn't begin until 1762 in New York. Since then, these parades have become some of the biggest and most popular events in the U.S. Their popularity makes for a lot of work for the officers of the city.
On top of marching in the parade itself, BPD officers protect the parade route, direct traffic around blocked off streets, and work hard to make sure the harmless fun being had by attendees doesn't get out of line. Working a parade can be an ordeal given the amount of action taking place, but on top of that, officers have to forego their own celebrations in favor of keeping the peace. Irish challenge coins are an easy way to say thank you to the officers going above and beyond on the big day. 
Call and Speak to a Specialist Today
Law Enforcement in Boston
The Boston Police Department is the primary arm of law enforcement in Boston, but they don't shoulder the burden of protecting Beantown alone. Protecting the citizens of such a big city requires the hard work and tandem effort of multiple agencies. 
In addition to the BPD, the responsibility of law enforcement in Boston falls to:
Boston Municipal Police
Boston Housing Police
Suffolk County Sheriff's Department
Boston Park Rangers
Boston College Police Department
Boston University Police Department
Massachusetts Bay Transportation Authority Police
These different departments all share jurisdiction and work together to accomplish their shared goals. The men and women of each benefit from the effects of being presented with Massachusetts challenge coins. With so many different mottos, colors and emblems, the options for customizing your unique challenge coins are endless. For very real examples of what Signature Coins can do for you, take a look at our coin gallery and see the work we've accomplished for other police departments around the country.
Call and Speak to a Specialist Today
Let Signature Coins Honor Your Officers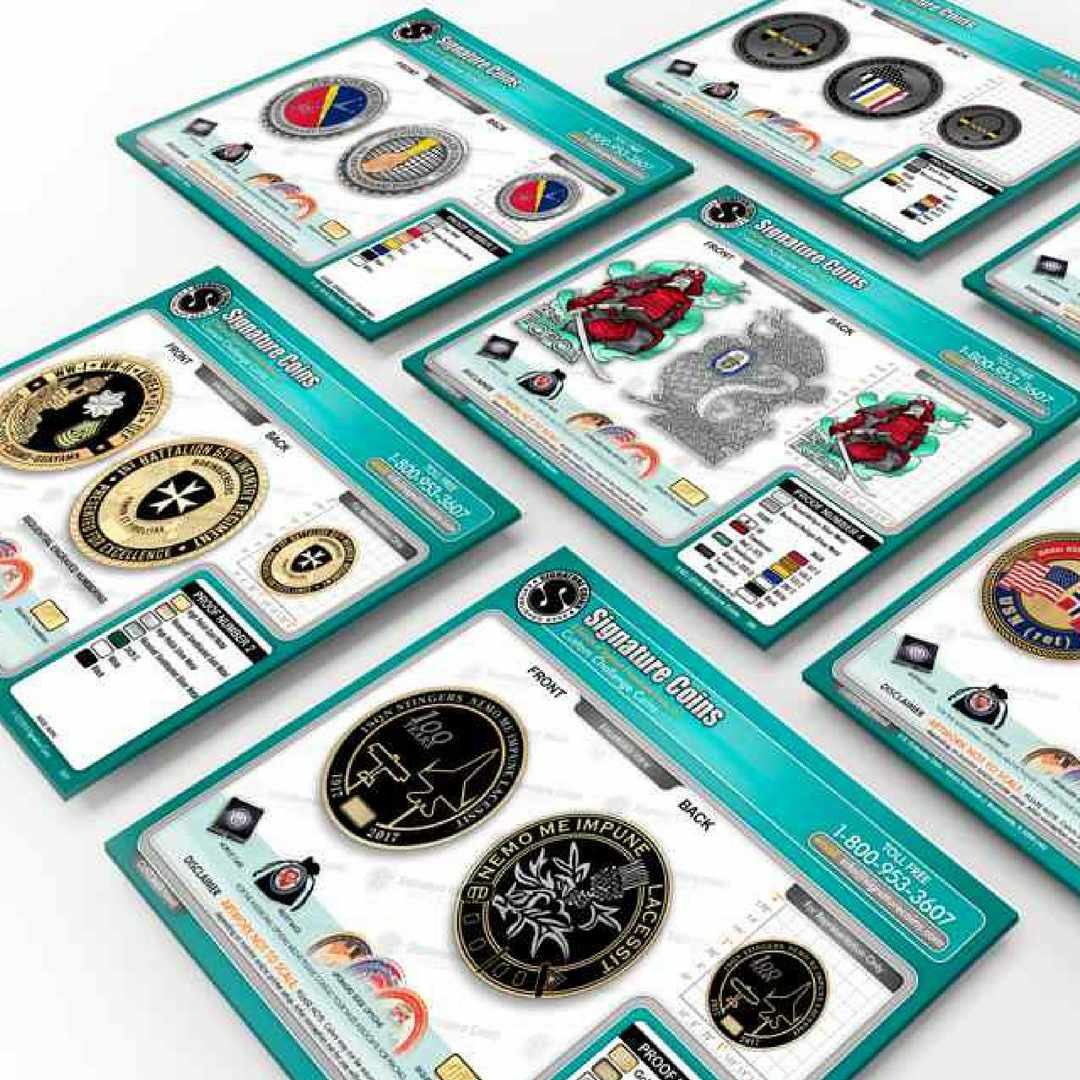 For over 15 years, Signature Coins has provided custom challenge coins to customers in different walks of life across the country. Our customers value our dedication to excellent customer service and the high-quality standards of the product we produce. Choosing Signature Coins for your custom challenge coin order means creating a relationship that will last a lifetime as you come back year after year for your future promotional needs. 
When Signature Coins creates your special keepsakes, you benefit from our simple three-step order process. You'll also get to enjoy the following free services offered on all orders:
Free artwork
Free quotes
Free unlimited revision
Free UPS Priority Shipment within the U.S.
100% satisfaction guarantee
Let Signature Coins help you show your appreciation to the brave members of Boston law enforcement; contact us today and get your order of custom challenge coins started. Between 24 and 48 hours after you contact us, we'll get back to you with your first free art proof, and we'll continue to make edits to the artwork until you're completely satisfied. We look forward to working with you on this and on future challenge coin projects!