Baltimore Police Challenge Coins
Honor Baltimore's Finest with Baltimore Police Challenge Coins
The Baltimore police department as residents know it today was established in 1853. Since then, the brave men and women of the BPD have worked hard to provide for a better security for life and property in the City of Baltimore. With close ties to the people in the community and a deep love for the Charm City, BPD officers put their lives on the line regularly to keep Baltimore as safe as possible. The danger they experience, and their heroism in the face of that danger, make them all prime candidates for Police challenge coins. 
At Signature Coins, we've spent more than the last 15 years creating custom challenge coins for law enforcement agencies and other local interests. Our consistent dedication to the brave people serving their community has taught us a lot about the needs of first responders across the nation, and a lot about the particular sense of civic pride and duty felt by the people who dedicate themselves to serving the people of their city. Baltimore challenge coins are a great way to say thank you to the men and women working tirelessly to keep your city safe and orderly. 
Law Enforcement in Baltimore
Like most big cities, law enforcement in Baltimore isn't left to only one agency. Policing over 611,000 people spread out over 80 square miles isn't the kind of task that only one organization could be expected to handle. Instead, when you're looking at law enforcement in Baltimore, you're examining a few groups of brave individuals risking it all for their city. 
Law enforcement responsibilities are divided between the following organizations:
Baltimore City Police Department
Baltimore County Police Department
Baltimore City Sheriff's Office
University of Baltimore Police Department
Baltimore City Public Schools Police
Maryland Transportation Authority Police
Maryland Transit Administration Police
All of these agencies and departments work in tandem, sharing information and jurisdiction, to help keep all aspects of Baltimore safe. Each also has its own history and unique identity, and as such each department benefits from its own unique set of challenge coins. 
Baltimore police challenge coins can be utilized when an officer transfers between units as a way to welcome them to the team and establish a sense of team unity. Police challenge coins are also often commissioned by commanding officers to honor a promotion through the ranks. Special challenge coins can be created for officers passing through the following ranks at the Baltimore City Police Department:
Police Trainee
Police Officer
Police Detective
Sergeant
Lieutenant
Captain
Major
Inspector
Lieutenant Colonel
Colonel
Deputy Police Commissioner
Police Commissioner
Progressing up the chain of command is something all officers take a great deal of pride in. Presenting them with custom challenge coins honoring their success makes the ceremony even more personal.
Ready To Get Started?
Ready To Get Started?
Customize Your Baltimore City Police Department Challenge Coins
Organizations like the Chicago Police Department, NYPD, LAPD and every branch of the U.S. Military have already taken advantage of Signature Coins' excellent customer service and created their own unique custom challenge coins. What will make your Baltimore law enforcement challenge coins stand out from those of these other organizations? The simple answer is that you will. 
With Signature Coins, the only limits to your coin design are those of your own imagination.  Some of our most common customization features include:
Shape and Size — Our coins often range in size from 1" - 3" and larger oversized coins are quickly becoming more popular. While the circular coin shape is traditional, other shapes are also available. One of our most popular shapes for law enforcement is the badge shape.
Color — The full Pantone color spectrum is at your disposal for your coins. You can either leave the coin in a classic metallic coloration or choose up to seven colors for either, or both, sides of the coin.
3D Options — Since Jan 1, 2017, 10.67% of Signature Coins orders have had a 3D mold. Raised lettering, logos or other design elements can really make your Baltimore challenge coin pop.
Coin Edge — There are six different options for the design of the edge of your coin.
Plating — Challenge coins often make use of either gold, silver or copper plating, but our choices don't stop there. If you're having a hard time choosing one option, you can always combine two for a truly unique look.
Offset Printing — Offset printing creates an exact replica of an image or photograph on the surface of your coin. 
Silk Screen — Let your coin maintain a perfectly smooth surface by silk screening your design's colors onto the coin.
Epoxy Dome — Some customers like the original feel of the metal on the coin, but if you want a glassy and smooth finish over one or both sides of a coin, choose the epoxy dome option.
Unsure of which options will best suit your Baltimore Police challenge coins? Give us a call and let our specialists help you decide today! Or check out our coin gallery to get a few ideas based on what we've done for other police departments.
Call and Speak to a Specialist Today
Partnering With Signature Coins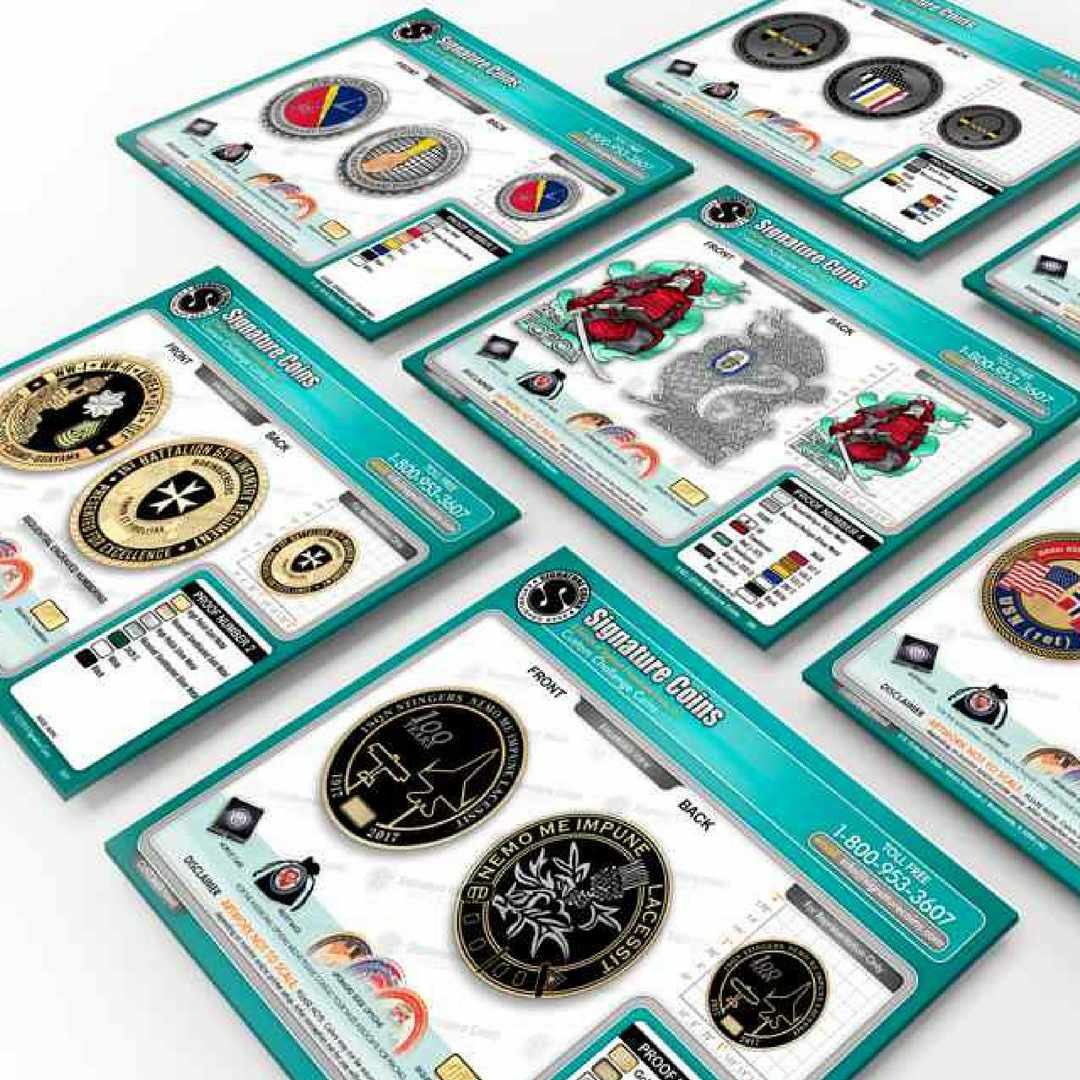 For over 15 years, Signature Coins has provided custom challenge coins to customers in different walks of life across the country. Our customers value our dedication to excellent customer service and the high quality standards of the product we produce. Choosing Signature Coins for your custom challenge coin order means creating a relationship that will last a lifetime as you come back year after year for your future promotional needs. 
When Signature Coins creates your special keepsakes, you benefit from our simple three-step order process. You'll also get to enjoy the following free services offered on all orders:
Free artwork
Free quotes
Free unlimited revision
Free UPS Priority Shipment within the U.S.
100% satisfaction guarantee
To show your appreciation to the brave members of the Baltimore police, contact us today and get your order of custom challenge coins started. Our team of artists will get back to you between 24 and 48 hours after your initial request, so don't delay!