We Make Creating Custom Coins Easy.
Creating Custom Coins in Three Easy Steps
Step 1 - Start a Free Estimate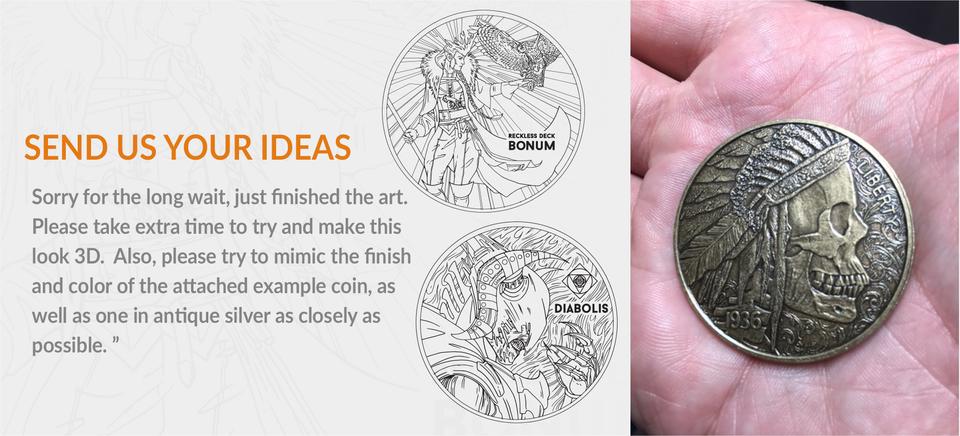 Custom challenge coins are beautifully detailed and created with vibrant colors which make them the perfect reflection of your business, organization, group or unit. High in perceived value and used in a variety of arenas, these collectible items remain popular decades after they were first created. Thanks to a perfected process that we use, we are able to expertly craft your challenge coins to your exact specifications in 14 days or less.
Step 2 - Proofing and Ordering
Our Free Quote Form makes it easy for you to provide us with all the necessary details and options for your coins. There are places to include your ideas, artwork, logos and text. While most challenge coins are two-sided, 1.5″ in diameter and 3 mm thick, we can design custom coins that meet your exact specifications.
Once this information has been submitted to us, we will immediately go to work on developing a free digital color proof and price quote for your project then email them to you within 24 to 48 hours.
Step 3 - Finished Coin
When you receive your color proof, carefully review the spelling, colors, and design of your challenge coins for mistakes. You can then make as many changes as you want. Each project receives unlimited revisions until you are 100% satisfied.
Large or small, square or circular, if you can come up with it, we can create it.
(Please note that if you elect to have epoxy coating, the epoxy may alter the appearance of colors.)
When you are ready to proceed, use the convenient Order Form on our site to place your challenge coin order.
Call and Speak to a Specialist Today
If you have any questions or seek advice on ways to make your coins stand out, give us a call to speak directly with a knowledgeable representative
You should receive your custom challenge coins within 14 days or less. All products are shipped through FREE UPS Air Shipping. Our quality and workmanship are 100% guaranteed.
Ready To Get Started?
Start Your Quote Today
Receive Professional Artwork FREE in 24 Hours
Today, the art and joy of collecting custom coins has spread way past the the Army, Navy, Marines, and Coast Guard.
Signature Coins specializes in creating customized coins. Whether you want to build your own commemorative coins, challenge coins, baseball coins or insert coins, our custom artists can create it for you. Presenting an individual or a group with a personalized coin is special. We make the ordering process easy so you can get your custom coins quickly.
How To Order Custom Coins
First, choose the style of custom coins you want to design and select either a smooth edged coin or a beveled edge coin. Then select the coin finish in either gold, silver or bronze. Custom Coins: Up to 7 FREE colors of enamel artwork on both sides of the coin. Each side of the coin may feature your personal artwork or design. Larger coins available.
Challenge Coins: Perfect for the military, armed forces and more. These coins are a great way to reward members of your organization that will last a lifetime. With both FREE art & setup and seven FREE colors of enamel, the double-sided challenge coin gives two different areas to include name and logo.
Why Signature Coins?
Signature Coins has been the industry leader in custom challenge coins for over 15 years. Our custom coins fit any budget and gift-giving ceremony. Signature Coins strives for 100% customer satisfaction and provides our customers with the highest quality products at the lowest prices available, making us your Custom Coins supplier of choice.
Call 1.800.953.3607 and speak with a custom specialist to order your custom coins today!