Challenge Coin Bottle Openers Combine Convenience with Tradition
Posted by Signature Coins | May 3, 2011 at 2:05pm | Topic: Bottle Opener Challenge Coins
Custom challenge coins have a history dating as far back as World War I. They are symbolic in nature and given to members of the military that show signs of excellence. Men and women that demonstrate courage, perseverance, and determination often are the recipients of custom challenge coins. These items are rich with personal meaning and become cherished keepsakes for the recipient.
Reasons Why Challenge Coin Bottle Openers Are Popular
Challenge coin bottle openers are especially appealing for a number of reasons. First, they are functional and attractive. Like other challenge coins, they can have a unique size and shape. Second, they can be used in challenges just like any other type of coin. This can be very beneficial for challengers and challengees alike. When it comes to opening a stubborn bottle cap, there is nothing better than a sturdy challenge coin bottle opener. Last of all, they make great gift items. People love objects that have dual purposes. In addition to being a memorable award, challenge coin bottle openers also have a second function which makes them very useful.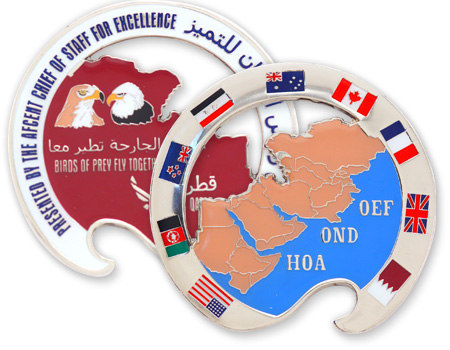 Making Your Challenge Coin Bottle Openers Memorable
There are a number of ways to make your challenge coin bottle openers memorable. For example, you can opt to have them created in the shape of a dog tag. This helps make them visually appealing and easily recognizable. Next, you can add an image or a photograph which will get people talking about your challenge coin bottle openers. Last but not least, you can add the name of your unit, the location where you are stationed at, and your unit's motto. This enhances your design's appearance and makes a really cool bottle opener for you to give out comrades.
We Offer Our Customers the Best Options
Signature Coins offers our customers the very best options available. In addition to a no obligation free quote, we also provide:


FREE Artwork & Design With Unlimited Revisions.




FREE UPS Air Shipping. Guaranteed




Delivery in (14) Days Or Less.




Quality & Workmanship 100% Guaranteed.


Like what you've read? Give us a call at 1-800-953-3607 toll-free or email info@signaturecoins.com. We can answer any questions that you have about your custom challenge coin bottle opener inquiry.