Custom Air Force Challenge Coins
Does your Air Force squadron have challenge coins?
The United States Air Force has a motto: "Integrity first, Service before self, Excellence in all we do." While members of the Air Force find this true, at Signature Coins, we also live by this motto.
For over 15 years, we have created custom Air Force challenge coins with the highest integrity, and always make sure to provide the best all-around customer service. Striving for excellence in every aspect of our business, we have remained one of the top suppliers of custom military challenge coins, and are proud to work with members of our Air Force.
What Are  Air Force Challenge Coins?
Air Force challenge coins enforce solidarity and hold members of the Air Force to certain standards. When a member of the Air Force is challenged to produce their coin, they must do so immediately. Failing to produce a challenge coin will result in buying a round of drinks, or performing a service for everyone that has an Air Force or military challenge coin.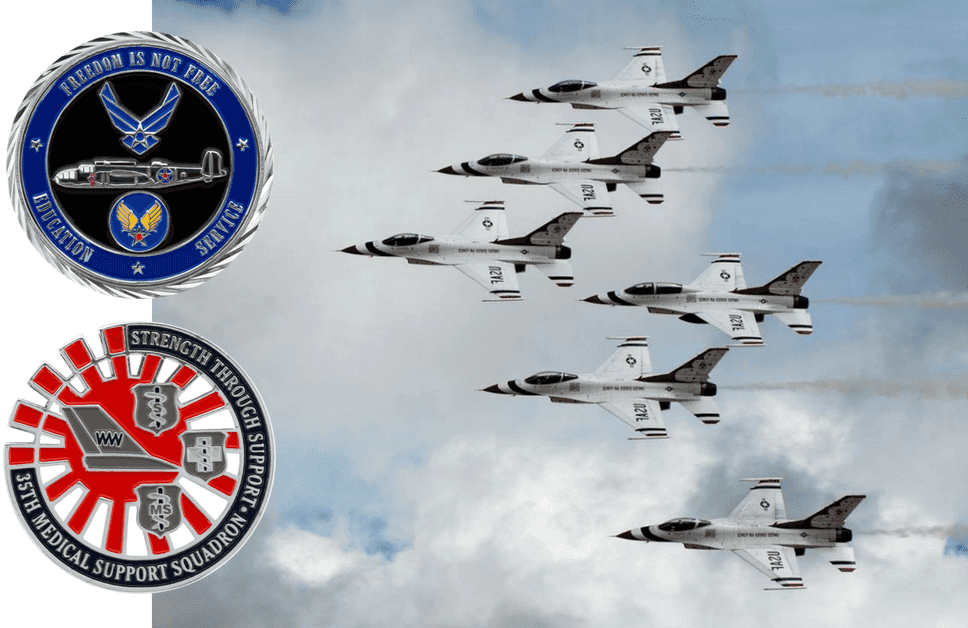 Call and Speak to a Specialist Today
Top Air Force Challenge Coin Features
Customers often come to us not only because of our excellent and speedy service but also because we offer limitless custom features for our challenge coins. In many cases, customers explain how overwhelming all of the custom coin options are. This is when we explain that we provide free artwork and designs with unlimited revisions. This service always seems to be greatly appreciated, as we are able to take their idea, and turn it into a reality.
Our streamlined process is simple and straightforward to avoid any confusion during the coin creating process. It begins by submitting your ideas, colors, and coin size, which typically ranges from 1" to 3". Once we have your challenge coin details, we will provide a free quote, then get a proof to you in 24 hours. If you are happy with the proof, we will create your coin and have it shipped to you in 14 business days or less, if you would like revisions, we provide those for free too.
Some popular custom USAF challenge coin features include:
Custom edging options
Antique metal plating
Offset printing
Silkscreen
Epoxy dome
Challenge coin cut outs
3D challenge coins
Sequential numbering
Edge numbering
Glow in the dark
While these are our most popular challenge coin features, we are able to create custom challenge coins in any shape or size. If you are interested in creating an Air Force coin for your unit, get started by calling or completing the contact form on this page today!
Ready To Get Started?
Custom Air Force Challenge Coin Gallery
Custom Air Force Challenge Coin Types
Aside from having a strong historical tradition, the United States Air Force has many reasons to have custom challenge coins created. As seen above, the challenge coins can be created in a variety of shapes and forms. In any case, these challenge coins are meant to mark something of significance. A few Air Force challenge coins we have created include: 
Air Force Base
Air Force Squadron 
Air Force Space Command 
Air Force Officer 
Air Force Rank 
Air Force Award 
Air Force Badge 
Air Force Honor 
Air Force Recruiting 
For any other type of custom challenge coins, please give us a call by clicking the button below, or by completing one of the free quote forms on this page.
Call and Speak to a Specialist Today
Air Force Academy & School Coins
Working with the Air Force, we have many opportunities to work with active members of our military, along with veterans. We also have the opportunity to work with the future of the United States Air Force by creating custom Air Force Academy challenge coins, and challenge coins for the many Air Force schools and universities across this great country of ours. We are very proud to create coins for the following occasions:
Air Force Graduation 
Air Force Football 
Air Force Academic 
Air Force Technical 
Air Force ROTC 
Air Force JROTC 
Air Force Special Ops School 
Air Force Prep School 
    To get started with your custom coin artwork, call 1.800.953.3607 or complete the form on this page today.
Get Free Air Force Challenge Coin Artwork Today
Selecting which company you want to create your custom challenge coin is a big decision. Many companies today seem to sacrifice quality to turn a product over quicker. This is never the best option. At Signature Coins, we make sure every single detail is approved by you before we send out your challenge coins. With a 14 days or less delivery frame, you will get your high-quality custom air force challenge coins when you need them the most.